Sex and sleaze
The scandal that's rocking women's cricket in Sri Lanka:
Sexual exploitation of sports women has gone largely underreported though it remains a significant reason for women to feel discouraged from being actively engaged in sports. Dhaneshi Yatawara delves into the recent sex scandal that rocked the island's women cricket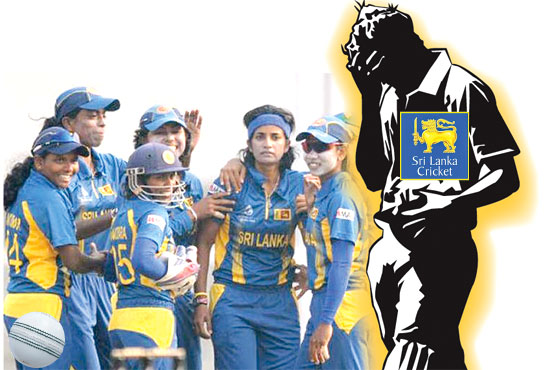 The sex scandal involving Sri Lanka's women's cricket team brings to light how unsatisfactory – and unsporty – the game's administration had been.
The recently concluded inquiry is likely to cause heads to roll and administrative loopholes to be tightened, according to insiders, as follow up actions are being lined up.
The recent sex scandal has brought to light a number of issues, in addition to sexual harassment, such as the absence of a female manager for the team, rampant favourtism, the unsatisfactory situation that prevailed in the selection of players, all of which contribute to the widely prevalent perceptions of favouritism and bias in Sri Lanka women's cricket, the island's most popular sport.
Sports authorities have already promised action against two men managing the women's cricket team following allegations that they demanded sexual favours from team members to guarantee their positions.An independent panel of inquiry last November commenced investigations amidst allegations of sexual bribes being demanded from women players by their male selectors and managers and refusal often resulted in players being dropped.
Last October, an unnamed senior female cricketer was quoted by the media, alleging that selectors and managers were 'habitually' demanding sexual favours from women cricketers in order to be included in the team.
Both reports concluded that there had been a few incidents of sexual harassment which were committed by two male officials but that there was no evidence of any physical intimacy and therefore, no grounds existed for initiating criminal proceedings. "Administrative processes will follow," an insider said.
There were incidents of improper conduct on the part of another male official which did not amount to sexual harassment, according to the findings, and as all three officials who were identified in the reports no longer function in their previous positions due to expiry of contracts in April, there was a problem in taking action against them for past action. No allegations were made against any of the coaches or against Varuna Waragoda and Uvais Karnain, who continue to serve as Selectors of the women's cricket team.
Sexual favours
Meanwhile, Sports and Tourism Minister Navin Dissnayake claimed that he was determined prevent such incidents and strict action would be taken against anyone who violates professional conduct in the future. "We will ensure there is no repetition and that perpetrators are brought to book," Dissanayake said. Sidath Wettimuny, Chairman of the nine-member Interim Committee, said the recommendations will be implemented in the near future and will be treated with the seriousness they deserve.Wettimuny said that both reports referred to incidents of sexual harassment and improper conduct. "The Interim Committee suggested the appointment of a female manager as a matter of priority for the women's cricket team and this should happen," he said.
Women's role
Gwen Herath, a pioneering spirit in women's cricket in Sri Lanka and former President of Sri Lanka Women Cricket Association, said she is shocked and saddened by what appears to have transpired in the island's women's cricket.
Herath who insisted that the women's cricket team too should accept some responsibility for the current issues, claimed that she would not have been able to push Sri Lanka's women' cricket towards ICC status, if a similar situation existed during her time.
The only Sri Lankan woman so far to have occupied a seat at the International Cricket Council panel, Herath said the managers at that time were strict disciplinarians and did not allow the players to divert their attention from the game.
"This is why the Sri Lankan women's team was able to secure the sixth place in our debut World Cup match in 1997. Many more victories followed. If a cricketer breached discipline, she would have lost her place," said Herath. Whether you are a man or a woman, if there is non -compliance with the disciplinary code, that team will lose.
The Sri Lanka Women Cricket Association selected girls from outstations and they were very 'raw' when they commenced their careers in cricket, Herath said.
"Unlike today, those days, some the girls we chose did not know the basics of the game. But we trained them well and they performed well. That is because we were very strict on disciplinary matters," explained Herath.
"Those days, the women players really did not know where cricket could take them. But today's women cricketers have that understanding and they must value the chance they have to become professional sports women," she added.
"Everybody cannot win and everybody will not lose too. Players must also bear in mind that they will have to handle multiple situations and to refer incidents of this nature to the authorities, for appropriate action. They also must maintain good discipline and understand the importance of representing a country. It is about good sporty representation and not about shopping and fun," stressed Herath. Meanwhile, State Minister of Child Affairs and women's activist, Rosy Senanayake has come out with a strong demand for justice and action against perpetrators.
"There should be a strict code of ethics within sports bodies as well as all organizations, to ensure professionalism. This should include anti-sexual harassment policies with penalties specified, "Senanayake said.
"Being women, it is very important for us to be in situations where we are not sexually harassed. We don't want to be demanded sexual favours in order r to secure our places within organizations or sports teams.
I acknowledge that both men and women could be subjected to sexual harassment.
Therefore, it is important to have a mechanism to prevent such issues," said Senanayake. Commending the officials in the cricket field, Sri Lanka's number one sport in terms of popularity and outreach, Senanayake noted the conducting of prompt investigations.
"This should be followed by strong action against perpetrators," she said, adding that, instead of judging and condemning other women, it was important for women to extend support to other women to help them overcome various difficulties, on and off the field.
---
Keeping a close eye - ICC
The allegations as well as the investigation results are being keenly followed by the International Cricket Council (ICC).
Commenting on the Sri Lankan women's cricket team saga, a spokesperson for the ICC told the Sunday Observer that ICC was closely monitoring the situation and the actions taken by the local administrators.
"The ICC is aware of the allegations as well as the findings of the investigation reports, the spokesperson said in an e mail.
---
Preventive action - SLC
In a statement, Sri Lanka Cricket (SLC) stated, it had received a report by the Committee of Inquiry appointed in November 2014 by the then Minister of Sports and a report by lawyer Manoli Jinadasa, who was appointed by SLC to investigate and report on allegations of sexual exploitation of some women cricketers.
The said Committee comprised Justice N. E. Dissanayake, retired Judge of the Supreme Court (Chairman), Tharangani Neenawinna Dissanaike, Public Trustee and Aloka Bandara, Director of the Combined Services of the Ministry of Public Administration.
"The Committee of Inquiry has investigated and reported on alleged incidents of sexual harassment and improper conduct said to have been committed in 2013 and 2014 by some officials handling women's cricket."
It added that there had been a few incidents of sexual harassment which were committed by two male officials but concluded, "there was no evidence of physical intimacy" by any of the three men, none of whom have been named in the report.
Further, it added that "both reports have highlighted the unsatisfactory situation that prevailed in the election and other aspects related to women's cricket and the widely prevalent perception of favoritism and bias."
SLC added that the investigation had determined that whole two male officials have sexually harassed the women players while the third was guilty of improper conduct, not amounting to sexual harassment.