On MERS alert!
Sri Lankans in South Korea safe, but extreme caution urged:
The Middle East Respiratory Syndrome (MERS), which has claimed 10 lives and affected another 122 is spreading fast, especially in South Korea. Where 2,890 have been quarantined. Should there be cause for concern here? Have any Sri Lankans working in South Korea been affected with the syndrome?
Officials at the Sri Lankan embassy in Seoul have urged Sri Lankans working and living in South Korea to be cautious about MERS, but have requested all Sri Lankan workers to reprt to work as there is no reason to panic. Krishantha Kumarasiri, Press Secretary, of the Sri Lankan embassy in Seoul told the Sunday Observer, that the Embassy in South Korea has issued strict warnings to Sri Lankan migrant workers and the expatriate community of a possible escalation of MERS and the precautionary measures that should be adopted to curb the spread. He also said WHO had initiated vigorous programs to stem the spread of the disease.
Meanwhile, a spokesperson for the Ministry of External Affairs said they receive reports from the Embassy in South Korea from time to time of the situation and so far no Sri Lankan has been infected with the MERS virus.
No travel restrictions
She said those suspected of having contracted the virus were quarantined in hospitals, others who have mild symptoms have been requested to remain at home."The embassy has informed us that no travel restrictions have been issued by the South Korean authorities. There is absolutely no necessity to evacuate anyone from the country. The Embassy has also issued a MERS prevention guidance to Sri Lankans living in South Korea, she added.
Meanwhile, Kumarasiri said the Embassy had informed the Foreign Ministry that there was no need for the workers to panic and leave the country, excepting that sending people for employment at present could be put on hold.
A spokesman for the Foreign Employment Promotion and Welfare Ministry said all Sri Lankans were safe and have reported to work as usual.
"From time time, we inform the Foreign Ministry about the current situation and about the Sri Lankans in South Korea. There are five million foreigners in South Korea including 30,000 Sri Lankans. We send daily updates to the Foreign Ministry. So far only South Koreans have been infected by the virus," Kumarasiri said.
He said three main hospitals in Seoul and 36 provincial hospitals are providing treatment for MERS patients and that the WHO team in South Korea is providing assistance to the affected hospitals. Last week a MERS infected pregnant woman was identified. The South Korean Government has taken steps to control the spread," he said, adding there is a fear that the number would increase, because it is a highly contagious virus".
He also said Sri Lankans have been given emergency hotline numbers of the Embassy, Health Ministry and other tourism organizations, so that they could contact in the event of an emergency.
"The Embassy has 6,000 facebook contacts. We have contact with community groups and community leaders so there is no need to panic," he said, adding we have also given a list of medical centres that should not be visited and if they have done so in the recent past, they should have a double check at a different hospital and clear any doubts."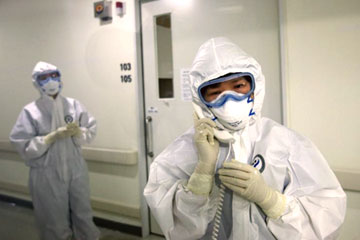 Another important issue was if they had travelled to any Middle Eastern country in the last 14 days, they should do a medical checkup and clear themselves, he said.
Kumarasiri said CCTV cameras monitor patients turning up at hospitals and their details are maintained. "Any suspicion of having contracted the disease could easily be traced and they could be quarantined."
MERS symptoms
Fever, cough and shortness of breath are MERS symptoms. Other symptoms may include nausea, vomiting and diarrhoea. Pneumonia is also common among those who have contracted the virus.
Washing the hands often with soap and water for at least 20 seconds, using an alcohol-based hand sanitizer if soap and water are not available, covering the nose and mouth with a tissue when you cough or sneeze, avoiding touching the eyes eyes, nose and mouth with unwashed hands, avoiding personal contact, such as kissing, or sharing cups or eating utensils, with sick people and cleaning and disinfect frequently touched surfaces and objects, such as doorknobs are the steps to prevent MERS.