No MERS patients detected in Sri Lanka
Sri Lankan health authorities have now alerted government hospitals islandwide to take necessary precautions to prevent the spread of the disease.
They said that even though it had yet to be listed as a notifiable disease, circulars had been issued on the management of the disease to hospitals across the country.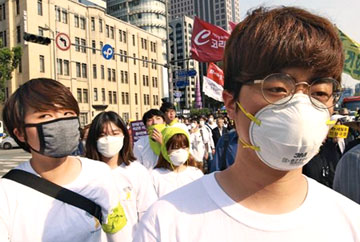 Issuing guidelines for clinical management of MERS - CoV, to Directors and Medical Superintendents of all Teaching, General and base hospitals, the Director General of Health Services, Dr P.G. Maheepala noted that MERS was an "emerging disease caused by a new strain of corona virus previously not identified in humans, which caused acute respiratory illness with fever, cough, shortness of breath and breathing difficulties. Based on current clinical experience, the infection generally presents as pneumonia and has caused kidney failure in some." Hospital sources said they had received the circular and was currently taking precautionary steps with WHO guidance.
Asked if any Sri Lankans had been affected by the disease, a health official said since a large number of Sri Lankans travelled to the Middle East for employment daily and on the Haj pilgrimage and on Umra, they were at considerable risk of importing the disease.
"Our message to the public is if you are planning to go for employment or an pilgrimage to the Middle East, or returning from a Middle Eastern country, follow the simple rules and protect yourself from this serious respiratory disease. meanwhile, Chief Medical Offcer, Mt Lavinia, Dehiwela, and Wellawatte, dr Indika Ellawela, said those suffering from chronic illnesses like diabete, kidney or lung disease should seek proper medical attention to control the diseases before they travel, as it will increase the risk of contracting MERS. "Avoid crowded places. Take the necessary precautions.
Washing hands frequently with soap and water is an absolute must. Wash fresh food eaten raw, always try to eat well- cooked food.
"Avoid unnecessary contact with farm, domestic and wild animals. If you develop the following symptoms during your stay in the Middle East or within two weeks of arrival to Sri Lanka , consult a qualified medical practitioner," he said. Medical Research Institute officials said the virus could be detected by RTPCR(Medical term used by health officials) and laboratory confirmation as facilities were available at the MRI.
"We have issued instructed hospitals on how samples should be taken and transported in the shortest possible time. We are open 24 hours throughout the week including weekends," a spokesman said.
Hospitals authorities said droplet precautions had been added to standard procedure for any patient with symptoms or confirmed with MERS. All staff and medical officers have been instructed on what to wear and how to dispose of waste material from such patients", a hospital source said.
Director National Hospital, Dr Anil Jasinghe said to date there were no reports of any person suspected of having symptoms of MERS being admitted to the counry's premier hospital.