National HR Conference this week
The National HR Conference 2015 will be held on Tuesday and Wednesday at the BMICH on 'HR for national prosperity, insights, initiatives and implications'.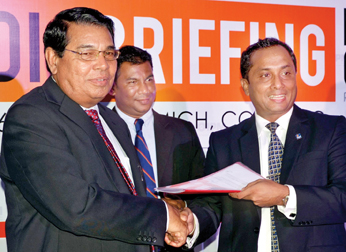 The conference organised by the Institute of Personnel Management (IPM) Sri Lanka, will create a platform for the country's HR fraternity to deliberate people management practices that can deliver prosperity to the people and the country.
President, IPM Sri Lanka, Rohitha Amarapala said that national prosperity encompasses a variety of aspects including economic development, social well-being, environmental protection and peaceful co-existence, and hence public and private sector managers have a crucial role to play in ushering in a prosperous nation.
"This is more crucial with accelerated development taking place on all fronts. Human Resources (HR) as a profession cannot operate in isolation ignoring these realities," he said.
Chairman, NHRC 2015, Dr. Ajantha Dharmasiri said that the conference tagged as South Asia's biggest HR event will be even bigger, better and brighter. It will feature eminent international and local speakers, he said.
"HR can be a bridge between the private and public sectors as its key functions have an overarching effect on using the most precious resource of any organisation. Ironically, we have an over-emphasis on private sector HR with less focus on the public sector," he said.
"This should be rectified through a sensible dialogue on best HR practices and their applicability to private and public sectors alike. The NHRC 2015 hopes to fill this void in a meaningful and lasting manner," Dr. Dharmasiri said.