Remembering Dr Nissanka Wijeyeratne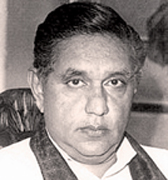 Today marks the 92nd birth anniversary of the late Deshamanya, Dr.NissankaWijeyratne, one of the most illustrious sons of Sri Lanka, a multifaceted personality, who was an erudite scholar, civil servant, politician, diplomat, poet, orator and Diyawadana Nilame of the Sri Dalada Maligawa.
As a civil servant, he discharged his duties with utmost efficiency. He held several portfolios and was a brilliant debater in parliament. He was a skillful negotiator. I came to know Dr.Nissanka Wijeyratne in 1978, while in Kandy,and ever since, I had the pleasure of closely associating with him until his demise in 2007.
Although Dr. Wijeyratne was a Buddhist, he had a vast and intimate knowledge of all religions, and he quoted copiously from various scriptures during his discussions with me. To him, all human beings were equal, He was a firm believer that religion, was the path to God, the truth.
Dr Wijeyratne was a man of high values and he was a sincere friend, ready and willing to help and assist anyone who sought his help, assistance and guidance, even if the person was his adversary or critic or whether he was rich or poor, which indeed was a rare quality. He had vast knowledge and a fabulous memory. He had a knack of settling disputes and held in high esteem for his intellect and prowess. Dr Wijeyeratne projected Sri Lanka's image globally. His death left a void in me, his family and friends.
I take pleasure in reminiscing his virtues on his 92nd birthday. May his memory continue to illumine his family and friends.
- G. Sathasivam
---
M. Saheed Sulaiman - A genial gentleman
M. Saheed Sulaiman, project manager of the then Nylon Six Project of the Petroleum Corporation expired June 9 at his Vajira Road residence in Colombo.
He was a marked out sportsman during his University life, where he basked in glory as a triple coloursman, captaining the cricket, hockey and rugger teams
A chemical engineer by profession, Saheed took up a bold decision in taking up the challenge at the Qatar Government Petroleum Corporation (AGPC), and accomplished his assignment, winning the confidence of his employers in this desert land, during its early development in Petroleum resources. Saheed had always a winning ways and was a source of encouragement and inspiration, especially to the youth.
These characteristics he amply demonstrated when he threw his lot with Azahim Mohamed in ushering the Apollo era (formation of the Apollo XI Cricket Club in Borella) 35 years ago and excelled in both batting and bowling and was a guiding force imparting coaching lessons to the 'Un ones. He was a genial gentleman and a great sociable character. None of us who associated with him will ever forget his pleasant demeanor, always wearing that sweet smile on his face. He was a brother-in-law of Alhaj M. H. Mohamed, former Minister and Speaker of Parliament.
An octogenarian (85 yrs) at the time of his demise, Saheed Sulaiman leaves behind his beloved wife Mareena and two sons - Reza and Reaz and daughter Shaha. May Allah Subhanawu tha'ala grant him the highest felicity in Jennathul Firdous-Ameen!
Alhaj AHM Azwer
Former MP/Minister