Pakistan tough to beat - Angelo Mathews
Playing at home or elsewhere Pakistan are tough opponents to beat and Sri Lanka will have to be at their best to do so said the Sri Lanka captain Angelo Mathews.
Both teams are in a period of transition and the young players should try to establish themselves and cement their places for their future endeavours. Pakistan has not won a series in Sri Lanka in their past three outings. On the last occasion their bogey man has been the diminutive leg spinner Rangana Herath who baffled the Pakistanis with his left arm leg spin. But Misbah-Ul-Haq the Pakistan skipper was confident that his side which is a blend of youth and experience players are capable of handling Herath.
The tourists will play three Tests, the first starting in Galle on June 17 , the remaining two Test matches will be played at the P.Sara Oval from June 25 to 29 and the third and final Test at Pallekelle from July 3 to 7. The five match ODI series will begin on July 11 and the two T20's scheduled to take place after the ODI's.
Currently Pakistan is placed ninth in the one day rankings and they must beat Sri Lanka to get into the eight position or better before September 30 to find a place in the first eight teams to be eligible to compete in the Champions Trophy.
But coach and former Pakistan captain Waqar Younus was more keen on winning the Test series and later concentrate on the ODI 's. " My first priority is the Test series, as we have not won a series in the last three outings.There is a little more time for the ODI's. We mustn't worry what is going to happen in the future.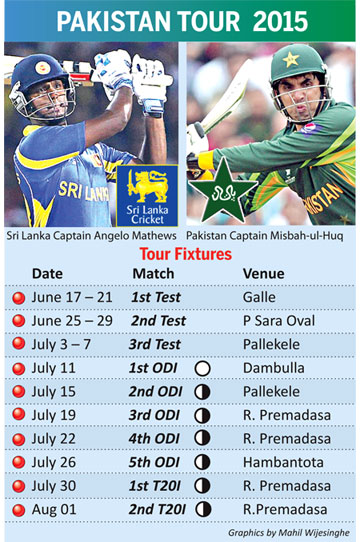 I think it is too early to worry about it. Test matches, we know it is going to be tough, we all know a home series against the Lankans is not going to be easy.
They have proved it for the last ten years, this is going to be the fourth series and we have to make sure that we do well.. So this time around we are really looking forward to give them a tough time" said Waqar.
Pakistan came back to big time cricket by winning a Test series against Bangladesh and beating Zimbabwe in a limited overs series which has given the players a lot of confidence.
Pakistan will miss their ace spinner Saeed Ajmal who has been left out due to lack of form, but skipper Misbah-Ul- Haq was optimistic that his side has enough resources to fill the vacuum created by the spinner.
Sri Lanka is playing a Test match after some time , as we know that the Galle pitch usually assists spin bowling we do not want to try anything different. But we cannot say in advance that what type of pitch is in the offering said Mathews. He also hinted that Dinesh Chandimal will most probably keep wickets as Prasanna Jayawardene has not been included in the side. 'We have many wicket keepers in the side ,but we have still not decided as to who will don the wicket keeping gloves in the Test.
---
SLC's unique offer
Sri Lanka Cricket once again has a unique offer for the Corporate World. Entertain their valued clients with maximum excitement at a world class venue in an exclusive Corporate Box in A/C comfort.
Limited number of boxes are available on first come first basis and the fans can reserve their Exclusive Corporate Box online by login on to www.srilankacricket.lk or by contacting Gayathri on 0777-560826.