Investigating human rights:
'Hybrid' mechanism will ensure int'l support
The Report of the Office of the United Nations High Commissioner for Human Rights (OHCHR) on Promoting Reconciliation, Accountability and Human Rights in Sri Lanka and, the report of the OHCHR investigation on serious human rights abuses, allegations of war crimes and crimes against humanity in Sri Lanka between February 2002 and May 2009 (known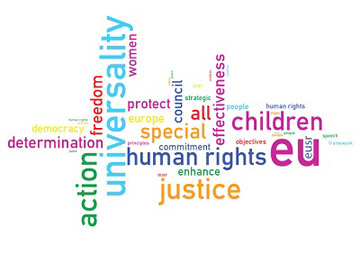 as OISL) is finally out after being deferred from its original date of release of March 2015 on the request of the Government of Sri Lanka.
Accountability mechanism
Long awaited and the focus of high expectations, deep concern and, even fear in some quarters, the OISL report now takes centre stage as far as the debate and discussion on transitional justice and its four pillars of justice and accountability, truth, reparations and guarantees of non-recurrence are concerned.
The GOSL request for deferral notwithstanding, the current government unlike its predecessor acknowledges the need for accountability and a transitional justice process. In this connection it has pledged to establish a "credible domestic mechanism".
At the ongoing UNHRC sessions in Geneva, this was reiterated by the Foreign Minister along with the announcement that there will be a platform for truth seeking and a permanent Office to deal with the issue of disappearances.
The accountability mechanism, the minister subsequently announced, will be set up within a period of 18 months and its establishment preceded by public consultations, which will commence in October of this year until January 2016. The GOSL has also maintained that it will seek international technical assistance.
There will also be a consensus resolution in the Council at the end of the current session. It will moved jointly by the GOSL and the US. The precise language of the resolution is yet to be agreed upon.
The OISL is the first report of an investigation into allegations of war crimes and crimes against humanity in the war in Sri Lanka mandated by a resolution of a UN body and done under its aegis. Additionally significant is that the current GOSL has not rejected it out of hand. In its response to OISL, the GOSL:
"Takes note also of the Report of the OHCHR Investigation on Sri Lanka (OISL), recognises fully that this Report represents a human rights investigation and not a criminal investigation, and will ensure that its content as well as recommendations receive due attention of the relevant authorities including the new mechanisms that are envisaged to be set up."
Findings
The key finding of the OISL, given its gravity is worth quoting in full:
"The sheer number of allegations, their gravity, recurrence and the similarities in their modus operandi, as well as the consistent pattern of conduct they indicate, all point towards system crimes.
While it is has not always been possible to establish the identity of those responsible for these serious alleged violations, these findings demonstrate that there are reasonable grounds to believe that gross violations of international human rights law, serious violations of international humanitarian law and international crimes were committed by all parties during the period under investigation.
Indeed, if established before a court of law, many of these allegations may amount, depending on the circumstances to war crimes if a nexus is established with the armed conflict and /or crimes against humanity, if committed as part of a widespread or systematic attack against a civilian population. In some of these cases, the alleged acts were apparently committed on discriminatory grounds."
Since the release of the report and in the months preceding it, debate and discussion such as there has been, has focused on the issue of the nature and composition of the accountability mechanism in particular - as to whether it should be exclusively international, domestic or a hybrid combining both elements.
The GOSL has taken the position that it will be domestic. Sections of civil society and Tamil political representatives have long insisted that it should be exclusively international, citing the failure of past domestic mechanisms and illustrating the considerable lack of faith and trust in domestic institutions and processes on this score.
Other sections of civil society have recognized that whilst there are serious trust and confidence issues around an exclusively domestic mechanism, emphasis on an international one and referral to the International Criminal Court (ICC) is highly impractical and unrealistic.
US support
Sri Lanka is not a member of the ICC and it would need a UN Security Council resolution to take the issue to the ICC - a resolution, which would almost certainly attract the veto of at least one permanent member of the Security Council, especially since the US Government has announced its support for a domestic mechanism.
In any event, the disposition of the international community would be to see all domestic remedies exhausted.
The OISL calls for a hybrid mechanism and this is where the debate will now centre. OISL recommends that the GOSL:
'Adopt a specific legislation establishing an ad hoc hybrid special court, integrating international judges, prosecutors, lawyers and investigators, mandated to try war crimes and crimes against humanity, with its own independent investigative and prosecuting organ, defence office and witness and victim protection programme, and resource it so that it can promptly and effectively try those responsible;'
The arguments against any international component in an accountability mechanism will spring from a narrow notion of sovereignty dating back to the Treaty of Westphalia enshrining it as the highest principle of collective political organization and of international relations, to violations of a constitution interpreted just as narrowly to be based upon it to those of a 'I told you so "nature that such a mechanism is implicitly if not explicitly designed to "turn war heroes into war criminals". To put it mildly, the perspective and requirements of transitional justice are lacking here.
No mechanism that is exclusively domestic is likely to be seen as credible as far as the families of victims are concerned and transitional justice if it is to mean anything must be victim-centred. Independence, expertise and experience are also issues here. What is at stake are universally recognized crimes and our dealing with them, seriously, fairly and squarely is at the heart of our commitment to a country that will reconcile and go forward in unity; a society that is decent with the governance it desires and deserves.The degree of hybridity in an accountability mechanism is pivotal to this.
This is the twenty first century and the government in this country has woefully failed some of its peoples. We are members of the international community where sovereignty is tempered with interdependence and the seeking of international assistance is not a mark of subservience or incompetence but one of maturity and strength to admit we need help.
We need help. To help ourselves.