PM's India visit:
Touching base . . .
Prime Minister Ranil Wickremesinghe undertook his maiden visit to India on September 15, days ahead of an important report pertaining to Sri Lanka's human rights status was to be released by the UN Human Rights Commissioner's Office in Geneva.
However, choosing India as the first foreign destination over other countries is not something that is new for Sri Lankan leaders. In the past, India has been the first chosen destination for the Sri Lankan Presidents and Prime Ministers.
Much should not be read into India being the first destination apart from the fact that India remains Sri Lanka's close neighbour, the largest trading partner and has today emerged as a country that is the largest partner in defence training programs and many of the officers of the Sri Lankan armed forces are trained in India. India remains a major pilgrimage destination for Sri Lankans. These facts attest to the close relationship that the two countries share.
In the post Mahinda Rajapaksa regime, these visits - earlier by President Sirisena and now by Prime Minister Wickremesinghe also signify that Sri Lanka in the process of making a major foreign policy shift. These shifts arise from three different factors.
First, the election of President Sirisena and Prime Minister Wickremesinghe as the heads of the United National Front for Good Governance (UNFGG), symbolises a departure from Rajapaksa politics which is a welcome development from India's point of view.
The current government realises that it would need India's political support to resolve the long-standing Tamil issue; second, Sri Lanka needs investments.
Economic development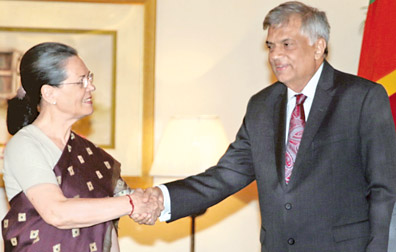 Greeting President, Indian National Congress, Sonia Gandhi.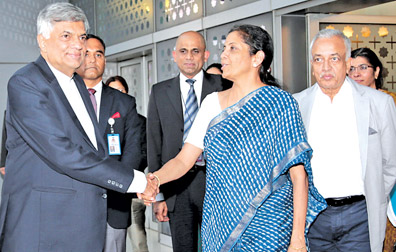 Being received by Minister of State for Commerce and Industry, Nirmala
Sitharaman.
Sri Lanka has taken a massive loan from China and some of the projects completed by China are yet to bring in the promised economic dividend. It fears the huge debt that the last government incurred will cripple the economy. The only country in the region that can help Sri Lanka in economic development and building of infrastructure would be India.
Third, on the eve of the UNHRC report that was unveiled on September 16; Sri Lanka would need India's support in the UNHRC to have a domestic investigation approved. This would need a huge diplomatic effort. Fourth, Sri Lanka also wanted to convey that it is sensitive to India's security interest in the Indian Ocean region.
Moreover, during Rajapaksa's regime, bilateral relations was at its lowest point as Mahinda Rajapaksa attempted to undermine India's security interests to pressurise New Delhi to give up its insistence on implementing the 13th Amendment and going beyond it. Prime Minister Modi, who visited Sri Lanka in March this year emphasised on building a close economic partnership between the two countries and harnessing the close socio-cultural relations that the two countries share to take their bilateral relations to a new phase.
He reiterated that Indian businessmen are interested in investing in infrastructure, energy and the transport sectors and emphasised need for bilateral arrangements on trade and investment.
Though India did not speak of the Comprehensive Economic Partnership Agreement (CEPA) which Prime Minister Modi had mentioned during his visit to Sri Lanka in March; but signing CEPA would remain a major priority.
There is some domestic opposition due to apprehensions expressed by business community in Sri Lanka pertaining to this agreement.
The two countries need to take steps to convince the public regarding the benefits of signing a comprehensive economic partnership agreement which includes trade in services and value addition by Sri Lankan companies - a natural progression from the Free Trade Agreement that the two countries signed in the late 1990s.
Major concerns
SAARC countries have already signed an agreement on trade in service in 2010 which came into force in 2012. Both countries hope to sign a framework document to encourage private sector investment.
The security dimension would be a significant factor in forging close ties. The growing influence of China in the Indian Ocean region is one of the major concerns taking into account the Chinese interest in building ports across the Indian Ocean region. China has a controlling stake in the Hambanthota port and received operational control of four berths which was leased out to a Chinese company last year.
China built and also controls the Colombo South Container Terminal (CSCT) where a Chinese submarine docked twice in 2014 much to the concern of New Delhi. With the change of government in Sri Lanka India expects Colombo to take into account New Delhi's security concerns. Taking a cue from close cooperation that exists between the armed forces which is signified by the number of officers who come to India for training, Prime Minister Modi said that the two countries have "closely aligned security interests and they need to remain sensitive to each other's concerns". Combatting terrorism and cooperation in protecting the common maritime neighbourhood was emphasised by both governments.
Prime Minister Wickremesinghe said that peace and stability in the Indian Ocean is linked to prosperity of India and Sri Lanka. It needs to be mentioned here that there already exists an annual trilateral naval exercise among India, Sri Lanka and the Maldives.
The fishermen's issue remain a major irritant. While the two countries reactivated the stalled dialogue between the fishermen of the two countries in March this year; bottom trawling remains a major concern for Sri Lanka since it damages marine resources. Indian fishermen demand to be allowed 83 fishing days in the Palk Strait for the next three years.
Taking into account the game changing election in Sri Lanka; India-Sri Lanka relations certainly would receive a boost as Sri Lanka moves away from the notion of 'national security' State to establish genuine peace and reconciliation and accelerate economic growth and generate employment opportunities for its people.
India will remain a major partner in Sri Lanka's economic trajectory and would be a stakeholder in Sri Lanka's effort at greater democratisation and its attempt to shape an inclusive political system.
The writer is a Senior Research Fellow at the New Delhi- based Institute of Defence and Strategic Analysis (IDSA).