Ditched
Leadership training at universities scrapped in favour of an international English training program :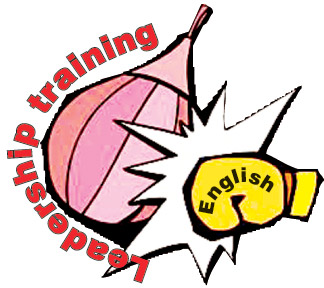 In an unprecedented move, the Government recently cancelled the Leadership Training Program for undergraduates initiated by the Rajapaksa regime jointly conducted by Military personnel and the University Grants Commission(UGC).
Coordinating Secretary to the Ministry of Higher Education, Sarath Hewage explaining why they had decided to do away with the leadership training, said, "The Leadership Training Program has been cancelled and an international training program has been introduced instead. The new program is the Independent Faculty English course.
All Faculties in universities have been authorized to co-ordinate the course. The UGC will fund it. I think it will be useful to students and will be a success. English Language is important, therefore, we decided to improve the standard of English in Universities.
For example, Medical Faculty students will undergo a Medical English course and Economics students will undergo an Economic English course, relevant to their field of study."
However, former Secretary to Minister S.B. Dissanayake, Dr. Sunil Jayantha Navarathna opined otherwise, "At present the Advance Level Examinations are competitive. Most students try to get the maximum marks by cramming and attending tuition classes.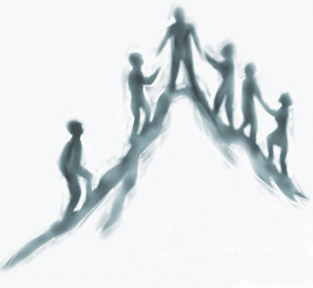 There is no recreation or time for extra-curricular activities, for them. To become a leader one should possess communication skills, have the capacity for team work, leadership qualities, decision-making and problem solving ability.
Poor leadership skills
"When a graduate faces a job interview, he or she is tested for leadership skills. Today, most graduates have poor leadership skills, as the only thing they know is to sit at a tuition class and listen to the teacher,"
he said calling it a pathetic situation. Another factor was that until students gain entry to local universities, they spend nearly a year after their Advance Level Examinations doing nothing.
It was to make use of this time effectively that former Minister S.B. Dissanayake introduced the Leadership Training Program. After the introduction of the program, three sessions were conducted successfully and 98 percent of the students who underwent this program were happy.
Navarathne said leadership training was not an Army training as perceived by many, he said. Last year 24,000 students entered the program and it was divided into two batches. The training was not conducted in classrooms but the activities were conducted at Army, Navy, Police and Air Force camps.
"Many practical sessions were conducted such as problem solving, arranging beds and clothes, cleanliness and table manners. It is a pity the present government has stopped the program which was of benefit to many students.
It is a good solution for ragging as they get to know one another, even before they enter the University.
"However, the Leftist Movement was not in favour of this program because it is they who are running the Universities today. Student unions cannot control ragging, that is why they do not like the program," he said.
Valuable experience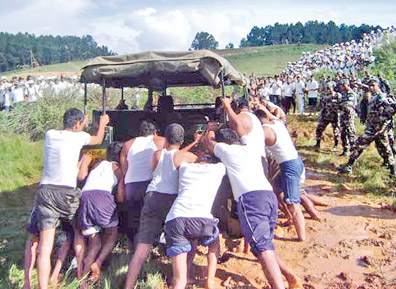 Meanwhile, an Arts Faculty student from the University of Peradeniya said the leadership training program was a valuable experience and that he was sent to the Giritale Military Police Camp for training.
The training lasted three weeks and was a form of relaxation after the Advance Level Examination in 2010. It included being able to cope with untoward situations. Physical training was a part of the program. A lecture on sexual health and beauty culture was also conducted.
As far as he was concerned, he felt that the time limit for the training program was not enough. "Attitude and behaviour cannot be cultivated in such a short space of time," he said. All facilities were provided. Good meals were also provided.
The program enabled interaction between undergraduates from other Universities. "I got the opportunity to make friends and get connected to many students from various Universities in Sri Lanka. Physical training was almost akin to military training. It was challenging to go through tunnels and climb ladders. They gave us permission to stay away if we could not perform any of the activities," he said.
Claiming it was inevitable that students get injured during physical training. " It is difficult to cultivate leadership qualities in a short time. I think it should be more systematic," he said.
However, he was in favour of the program and wanted more time for the program.
He said that it would have been good if students were permitted to go home and return during the training period.
Thilanka, a Language student from the University of Peradeniya said as far as he was concerned, the Leadership Training Program did not help. "It was like my daily routine and I did not find it interesting."
Students wake up at 5 a.m. do physical exercises and attend lectures on how to arrange clothes and etiquette training.
However, he was interested in the lectures conducted by the Head of the Geography Ddepartment of the University of Peradeniya, Prof. Hennayake.
"He taught us how to face university life and how to tackle problems. The worst part was that our camp had more than 800 girls. The Trincomalee camp was like a hospital ward. The climate was so hot and we did not have proper toilet facilities."
Farhana, a Law student from the University of Peradeniya said she was assigned to the Diyathalawa Air Force camp. She cultivated leadership qualities and made many friends. "Getting to know people and building social connections was a great thing" she said.
Waste
Farhana said that discipline, personal hygiene, etiquette and speaking in front of a crowd were some of the things she learnt. As for her there was a good side as well as bad. Farhana said that the public money spent on the program was a waste.
A statistics student from the University of Colombo, said there were 700 students with her at the Diyathalawa Air Force Camp. She said numbers were far too much and the facilities fell short of expectations. She said the Government should minimise the number of students in each camp. She praised the lectures conducted by Army officers. They narrated their life stories and experience at the Army Camp. The Leadership Program helped undergraduates to face difficult times and overcome ragging in Universities, she said.