BOOKS
'This Divided Island' longlisted for Samuel Johnson prize
An account of Sri Lanka's civil war by Indian author Samanth Subramanian has been longlisted for the Samuel Johnson prize 2015, making him the second Indian to be nominated for the prestigious award.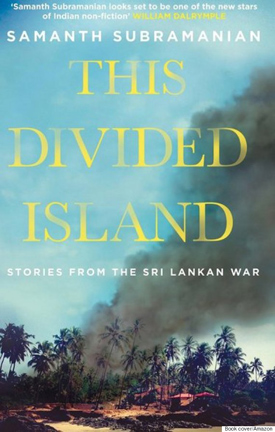 Founded in 1999, Samuel Johnson prize is one of United Kingdom's most prestigious awards for non-fiction.
Samanth's book 'This Divided Island' is among the 12 books longlisted for the prize (prize money: 20,000 pound), whose shortlist will be announced in October during the London Literature Festival. The winner will be named in November.
Before Samanth, Suketu Mehta was the only Indian who had been shortlisted for the Samuel Johnson Prize. Mehta was shortlisted for his book 'Maximum City: Bombay Lost and Found' in 2005.
"The book tracks the rise of militant Buddhism, driven by monk politicians who hold extraordinary, extreme opinions," publishers Penguin Random House said in a statement today.
Driven by curiosity about the scars and legacies of a long war, Samanth moved to Sri Lanka in 2011 and over the next year, he travelled across the island, and through Sri Lankan communities living overseas, talking to hundreds of people about how their lives were twisted out of shape by the war.
The prize is open to authors of all non-fiction books in current affairs, history, politics, science, sport, travel, biography autobiography and the arts.
Samanth, a Delhi-based journalist, won the 2010 Shakti Bhatt First Book Prize for his first book of narrative non-fiction 'Following Fish: Travels around the Indian Coast', which was also shortlisted for the 2013 Andre Simon Prize.
This year's judging panel, chaired by the Pulitzer prize-winning historian Anne Applebaum, also longlisted the books 'Guantanamo Diary' by Mohamedou Ould Slahi, 'Ted Hughes: The Unauthorised Life by Jonathan Bate', 'Black Earth' by Tim Snyder, 'Fighters in the Shadows by Robert Gildea', 'The Unravelling: High Hopes and Missed Opportunities in Iraq' by Emma Sky.
'Nothing is True and Everything is Possible: Adventures in Modern Russia'by Peter Pomerantsev, 'The Four Dimensional Human', by Laurence Scott, 'Landmarks'by Robert McFarlane, 'The Planet Remade' by Oliver Morton, 'Neurotribes: The Legacy of Autism' by Steve Silberman and 'The Four-Dimensional Human' by Laurence Scott complete the shortlist.
- Huffington Post