Reducing disaster risk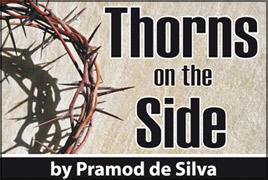 If you scan a newspaper or watch the news on television, you will come across at least two news items from around the world on natural disasters. From a landslide in Guatemala to floods in China (and in Sri Lanka itself), natural disasters occur all over the world. Thousands of people die each year around the world in natural disasters. While it is not always possible to prevent natural disasters, we can sometimes minimize the loss of lives and property if precautionary and preventive measures are taken.
The best example was the Boxing Day tsunami of 2004. It was simply not possible to prevent the 9.3 earthquake per se - we still do not have the kind of technology that can predict, leave alone prevent, an earthquake. But we do have state-of-the-art communications systems. Once we knew it had happened, we could have evacuated a large number of people within the two-hour window that generated a massive tsunami, using those communications channels. But this never happened due to various factors and around 250,000 people in 11 countries lost their lives. An early warning system could have saved so many lives.
Disasters do happen, but certain actions can be taken to reduce the risks associated with natural disasters. To focus on this issue, the UN General Assembly has designated the second Tuesday or Wednesday of October as the International Day for Natural Disaster Reduction (IDDR). This year, it falls on October 13. The objective of the observance is to raise awareness of how people can take action to reduce their risk to various disasters.
Negative impact
At the Third UN World Conference on Disaster Risk Reduction, the international community was reminded that disasters hit hardest at the local level with the potential to cause loss of life and great social and economic upheaval. "Sudden onset" disasters displace millions of people every year. In 2014, 19.3 million people were newly displaced by disasters. Disasters, many of which are exacerbated by climate change, have a negative impact on investment in sustainable development and the desired outcomes.
The focus of this year's IDDR is on the traditional, indigenous and local knowledge which complement modern science and add to an individual's and society's resilience under the theme "Knowledge for Life". For example, knowledge of early warning signals in nature can be vital to ensuring early action is taken to mitigate the impact of both slow and fast onset disasters such as droughts, heat waves, storms and floods. Combined with scientific knowledge such as reports generated by satellites and meteorologists, local knowledge is vital for preparedness and can be passed from generation to generation.
It is well known that most animals have a sixth sense which helps them avoid natural disasters. Hours before we came to know about the tsunami on December 26, 2004, animals were running inland to avoid the incoming tidal wave. They just felt that a major disaster was about to happen and not a single animal, except for a few dogs chained or caged in their homes, died in the disaster. It is believed that even humans and their early ancestors had this sixth sense, but as our brain grew in size and senses such as sight and hearing dominated in our information gathering process, we lost this all-important sixth sense. But this very occasionally surfaces in a very few individuals, who often get a feeling that something bad is about to happen. All others have to rely more on electronic weather aids.
Traditional knowledge
But there is a more practical aspect - traditional knowledge of weather and disasters. For example, we all know that if the sun is very harsh in the morning, chances are that it might rain in the evening. Many of our elders can do much more - they can predict short and long term weather fairly accurately just by looking at the sky and their surroundings. This is called traditional knowledge. This knowledge can be harnessed and incorporated into formal predictions of weather and disasters. Moreover, in countries with significant indigenous populations including Sri Lanka, there is a treasure trove of knowledge on disasters waiting to be tapped and used. More than 370 million people in 90 countries identify themselves as indigenous. Indigenous peoples' territories span over 24% of the earth's surface and they manage 80% of the world's biodiversity.
To give just one example, the indigenous people of Akum, Morocco anticipate weather changes by observing variations in the colour of the water in the streams and the behaviour of migratory birds and insects. No scientific study can match such an astounding understanding of, and affinity with, Nature. New knowledge and coping strategies are being generated all the time as communities in hazard prone locations work out new ways and means to adapt to disaster and climate risk. In many aspects, indigenous people epitomize the importance of local knowledge and community-level engagement in disaster risk reduction.
Many traditions, practices and customs which are important to environmental protection and managing disaster risks are embedded in thousands of native languages that are threatened with extinction in a few years. In both rural and urban settings, indigenous people have unique vulnerabilities and needs in disaster risk reduction and in post-disaster recovery.
Capacities and knowledge
At the same time, indigenous people have unique capacities and knowledge on natural disasters and climate change. Over several generations, they have learned from the past to read the present and predict the future as far as climate is concerned.
As the world continues to witness more adverse effects of climate change, indigenous knowledge is adapting to this change. Local knowledge of doing things becomes very important in avoiding famine, disease and other disasters. This knowledge should be harnessed in an appropriate way.
Attention will be drawn to this issue at the 21st session of the Conference of the Parties to the United Nations Framework Convention on Climate Change - or COP21 that will be organized in Paris from November 30 to December 11, 2015 to discuss a new climate agreement to replace the existing Kyoto Protocol. Individual countries should consult the leaders of their indigenous communities and get their inputs on climate change policies and disaster reduction for incorporation in their work programme. Such precious knowledge must not be allowed to go unutilized.