Rajapaksa regime 'violated human rights by intention'
Says visiting HRW chief Brad Adams, citing facts emerging from two presidential commission reports:
Banned from entering Sri Lanka in 2008 for his human rights work, Brad Adams, the current Executive Director of the Asian Division of Human Rights Watch (HRW) is happy to resume work in the island. In an interview with the Sunday Observer, Adams, who was in Colombo to meet top government officials and to launch 'We live in fear: Lack of accountability for police abuse in Sri Lanka' on October 23, said facts emerging from two recent presidential commission reports indicate the former government and the security forces serving under its directives have not been negligent but have 'violated human rights by intention'. He said, though diluted and flawed, the same reports have accepted widespread rights abuses including the controversial 'white flags' incident.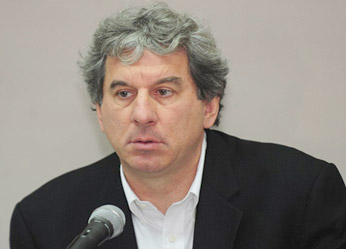 "It is indicated that the controversial incident happened with the concurrence of very senior public and military officials. There is no doubt that former President Rajapaksa, former Defence Secretary Gotabhaya Rajapaksa and top military officials were involved in the decision to kill people," he said.
Adams has worked in Cambodia as the senior lawyer for the Cambodia Field Office of the UN High Commissioner for Human Rights and legal advisor to the Cambodian Parliament's Human Rights Committee before undertaking his current position with the HRW. He is a member of the state bar of California and has worked extensively in the Asia Pacific including Pakistan, Afghanistan, Myanmar and Cambodia.
Excerpts:
Q: When were you here last for HRW work?
A: I was here just before being declared 'persona non grata' by the former government. The ban came into effect in 2008. We had just published a report on the North by then as part of our continued work on Sri Lanka. Up until then, HRW was tolerated, but after that report, we had some contentious discussions and that was it. Before that, we have done some detailed reports on child soldiers and the LTTE, Diaspora's contribution to funding the LTTE and fuelling terrorism, LTTE's continued rights abuses and so on. Some Tamil rights advocates were extremely angry with HRW at that time. There were threats to my personal safety. I was condemned by some sections of the Tamil community together with HRW. I was branded anti-Tamil in approach.
But ahead of the 2009 final offensive, HRW had a report on the Sri Lanka Army's offensives which critiqued the military direction of the government. Then the labelling suddenly changed. I was labelled pro-LTTE due to the HRW report raising some critical issues about the military's conduct. HRW was called an LTTE mouthpiece and its work was condemned. There was so much hate speech and the word 'terrorist' was widely used against us individuals and the organization.
Our previous reputation changed almost overnight with that single report, from friend to enemy. There was zero tolerance for criticism in the Rajapaksa regime.
The government's excuse for all the listed excesses: They were fighting terrorism and all was fair in love and war.
Q: What was the government's response to the issues you are ready to raise now?
A: There is a marked change in the attitude of the government today. It is 100% different from what we experienced a few years ago. We have had interactions with Prime Minister Ranil Wickremesinghe and Foreign Minister Mangala Samaraweera. They were very cordial. Minister Samaraweera visited the HRW office in London twice, post January. To the various issues raised by us, the government has responded in calm and measured way. There is hope.
Q:Has the ban on you lifted?
A: Not completely. Despite the freedom I felt when arriving here, I was courteously but differently treated by the Chief Immigration Officer. He took me aside and politely interviewed me for a full 15 minutes. He was nice but I realized I am still not off the list and they still keep an eye on me. But I believe I am not fully blacklisted or else they would have not allowed me entry. Hopefully things will evolve soon.
Q: What were the key issues raised with the Prime Minister?
A: Several. But we raised issues that are linked to processes, post war and sought assurances. We called for a 'trustworthy process' in investigating human rights abuses as promised to this world last month and to make it fast. Time does not wait for anyone, and especially for Sri Lanka, which needs to demonstrate its commitment to a sincere process and restorative justice.
Q: Are you satisfied with the responses? Too many questions are being already raised on the proposed process?
A: No single process can enjoy complete support. We used to view Sri Lanka as we do China, or even worse. Authoritarian and unable to handle criticism. In fact, Cambodia was more open than Sri Lanka during President Rajapaksa.
It has changed today for the better. Sri Lanka has the greatest chance in decades to place it back on the internationally map as a democracy and an opportunity to right its wrongs.
Q: What are the likely next steps the government discussed with you?
A: After the UNHRC resolution co-sponsored by your government, which in itself is a huge shift in position, there was a parliamentary debate on the OHCHR report on alleged rights abuses, the UNHRC Resolution and the Udalagama and Paranagama commission reports. After the parliamentary debate, there will be three bills presented to create the mechanism that has been promised.
As HRW, we urge the government to 'do it fast.' The UNHRC review will be in June next year. It will be good for Sri Lanka to have actions to show than mere words. Let's hope the government remains committed not just in letter but also in spirit. If not, the government will come under severe domestic and intentional pressure. This is the litmus test on government's genuineness. It should not lose the momentum.
Q: The public expectations are high. Is the government able to deliver?
A: We would like to believe so. Delays will contribute to loss of trust in the process and the establishment as well. Public support will not remain indefinitely.
Public opposition to the UNHRC resolution was modest. This was despite the overstated risks. People have come to accept it seems that this is the new way forward.
Q: The recent commission reports hold the LTTE responsible in a significant manner. While the LTTE is clearly responsible for serious violations, there is less emphasis on the role of the government forces. Do these reports show a bias towards the establishment?
A: It is the political position-taking of the government. LTTE is quite rightly blamed for rights abuses. The priorities today are the three bills to kick start the process and the actual work that has to follow.
Q: These commissions were appointed by the previous government. Despite their credibility being repeatedly attacked, the new government seems to accept the contents?
A: If you look carefully, these reports also look at various issues and fault the security forces. It is clear that the government is keen to avoid an open conflict with the military as an institution. It is avoiding a direct battle with the forces and thus, serious public opposition. That's a political reality.
But the government must ensure that those responsible for indiscriminate shelling, ground offensives where whole communities were run over are taken to task. Now that's the action point. The government must demonstrate that it was not state policy and whoever who acted in contravention, needs to be legally dealt with. There is no way to avoid group responsibility for the atrocities.
The whole world knows that there was systematic ignoring of international conventions by the previous government. There was scant respect for universal human rights. It was not just about negligence but about violation by intention.
The reports clearly seem to be avoiding some of that. The important thing is not words but actions. What matters is action beyond the rhetoric and stance staking than sidestepping. If the credibility and transparency of the criminal prosecution process is there, if that is independent and sincere, then the government's publicly stated political views do not matter. If the criminal justice system can deliver justice, none of these statements will matter. Not even the judges would matter. Only the process and the conclusions will matter.
The same reports do accept widespread abuses including the controversial 'white flags' incident. There is an indication that the incident happen with the concurrence of very senior public and military officials. There is no doubt that former president Rajapaksa, former Defence Secretary Gotabhaya Rajapaksa and to military officials were involved in the decision to kill people. This has been verified to HRW by top UN officials who were engaged with the Sri Lankan Government at the time, over this issue of surrendees.
Using the same reports as a foundation, it is hoped that, where credible evidence exists, those responsible will be charged.
Q: The process of recording evidence by the said commissions has been a concern. What is HRW's position?
A: That process is clearly very seriously flawed. If these reports were released during President Mahinda Rajapaksa's tenure, in all likelihood the contents would have been different and further diluted. I do not wish to cast aspersions on anyone but the fact remains that these gentlemen would not have spoke truth to power. Clearly, even good people do wrong during difficult times and for political reasons mostly.
But the reports, from being a complete white wash have now become useful material. This may not be a fair and objective summary of what happened but it gives enough material to build on. What is important is the judicial process. The delivery of criminal justice those wronged. Restorative justice.
Q: HRW has called for the urgent repeal of the Prevention of Terrorism Act and introduction of witness and victim protection laws? How far down the line do they become advocacy priorities?
A: Not way down the priority list.
The first step is to release those who are in detention without charges being framed. This is easy and a first step. The second step is hard. That's about releasing persons through presidential pardons. That's mired in controversy and a political process that is often open to question. Third is about the ongoing trials. If they are stopped, then that would amount to interference.
So there are three levels to handle with regard to detainees. The new government has said, many in detention are not actual suspects and can be released. So we call for speedy action. If there six no evidence, then let those people go.
This is also why we are talking systemic issues with the government now. We are asking the government to go beyond the war through our latest report on police torture as a method of interrogation. This is very important to the people and restores faith in the system. This is the government's litmus test. That will demonstrate how the new administration is willing to go.
Sri Lankan people have begun expressing their outrage against police action now. But that outrage should be now used to demand systemic change. The system must reform itself now.