Un-neighbourly conduct!
The long simmering issue of Indian fishermen poaching in Lankan waters:
Indian fishermen poaching in Sri Lankan territorial waters have posed a serious threat to the Northern fishermen over the past few years, with several Indian fishermen occasionally being arrested by Coast Guards and the Sri Lanka Navy. The Fisheries Ministry is conducting bilateral talks with Indian authorities to resolve this long persisting dispute between Sri Lankan and Indian fishermen poaching in each other's waters.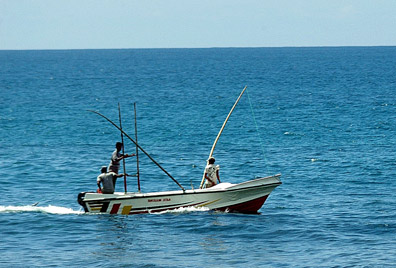 The Sri Lankan authorities vowed to take action against Indian fishermen crossing the International Maritime Boundary Line (IMBL), reports of arrests of the intruders by the Sri Lankan Navy, which patrols Sri Lanka's territorial waters, have been on the rise. Instances where Sri Lankan fishermen crossing the IMBL into Indian waters are far less, as borne by the fact that there are 71 Indian fishermen in Sri Lankan custody as against nine Sri Lankans in Indian custody.
The Indian fishermen poaching in Sri Lankan waters has seriously deprived of the local fishermen's harvest particularly in the Northern Province and certain areas in the Eastern Province as well. " We are objecting not only to the Indian fishermen poaching in our territorial waters but also to their illegal methods of fishing like bottom trawling and pair trawling", leaders of the Sri Lankan Fisher Societies said.
Local fishermen allege Indian fishermen are using prohibited methods of fishing within the Sri Lankan waters that destroy the marine resources and the fragile eco system. They claim these harmful fishing methods have depleted fish stocks in Indian waters to such an extent that Indian fishermen now invade Sri Lanka's Northern seas in search of catch.
Political decisions
Fisheries and Aquatic Resources Development Minister Mahinda Amaraweera told the Sunday Observer that several rounds of talks had been held between Indian and Sri Lankan Fishermen's Federations in the past. But these talks would not bring any fruitful results because most of the Indian fishermen's federations and fishing boats are owned by their politicians so that they always resort to political decisions. "Sri Lankan fishermen's federations are of the view that there is no use having discussions with them. The Ministry along with fishermen's federations intend to go for bilateral discussions with the Indian Central Government, he said adding that the talks with the Tamil Nadu government will not bring any solution to this issue.
"Indian High Commissioner in Sri Lanka, Y.K. Sinha who has sought a convenient time to discuss this matter," Minister Amaraweera said, "I think possibly we could discuss the issue this week. Indian fishermen poaching in Sri Lankan territorial waters is not a new phenomenon and this has been happening over the past 20 to 30 years. Now the situation is somewhat better compared with the past," he said. "At present there are some positive sings as Indian fishermen have agreed to stop fishing in our waters within three years. But we can't allow Indian fishermen to illegally fish in our waters even for three years. President Maithripala Sirisena also summoned all political parties represented in parliament to discuss this issue. We will also discuss this issue with the Northern Province Chief Minister C.V. Wigneswaran," he added. Minister Amaraweera pointed out that nearly 2000 Indian trawlers enter the Northern sea area daily and if the trend continues, the fishing harvest in the Northern Province would be over within six months. "If nearly 500 Indian fishing boats enter Sri Lankan waters, only two boats are arrested by the Navy, so that all these boats illegally cross our maritime boarders should be arrested," he said, adding "All those boats seized should be kept with us. Most of those fishing boats are owned by Tamil Nadu politicians, film stars and businessmen. We urge the government to bring legislations to ban the bottom trawling."
Provide solutions
Chairman of the Mannar District Fishermen Co-operative Society Unions, Noor Mohamed Aalam, said they met Northern District TNA MPs on Thursday (October 15) and handed over a memorandum to intervene to stop Indian fishermen from poaching in Sri Lankan waters and provide solutions to the problems faced by the Northern fishermen.
Meanwhile, both government and the opposition MPs in Parliament on October 09 opposed Indian fishermen poaching in Sri Lankan waters and called for a speedy solution to the issue. Participating in the debate on the adjournment motion, TNA Parliamentarian M. A. Sumanthiran called upon the government to take decisive action and bring necessary legislations to ban the Indian fishermen poaching in Sri Lankan territorial waters. Meanwhile, UPFA Parliamentarian Vasudeva Nanayakkara noted that Sri Lanka would never be able to sort out the issue of Indian fishermen poaching in Lankan waters without shifting the issue from bilateral to international context and stressed the need to take up the case before the International Tribunal for the Law of the Sea.
The Sri Lanka Navy and Coast Guard on October 14 arrested nine Indian fishermen in a fishing trawler for allegedly violating the IMBL and poaching in Sri Lankan waters. The fishermen were arrested 10 nautical miles northeast of Point Pedro. In addition, the Sri Lanka Navy on October 13 assisted Coast Guard to arrest 24 Indian fishermen in four trawlers poaching in our territorial waters. The fishermen were arrested at distances between 3 to 6 nautical miles from Thalaimannar.
The Navy arrested 19 Indian fishermen in two trawlers in the waters east of Point Pedro and east of Vettalakern on October 10. Tamil Nadu Chief Minister Jayalalithaa Jayaram has written a letter to Indian Prime Minister Narendra Modi urging steps be taken to release all Indian fishermen in Sri Lankan custody.