Plantation sector:
TUs want more time to study revenue sharing model
With the battle for a wage hike still raging, estate sector trade unions are not willing to accept the model proposed by the Regional Plantation Companies (RPCs).
President, Ceylon Workers Congress, Muttu Sivalingam told the Sunday Observer that the existing wage scheme should be considered first and then a time line should be set to discuss the new revenue sharing model of the RPCs.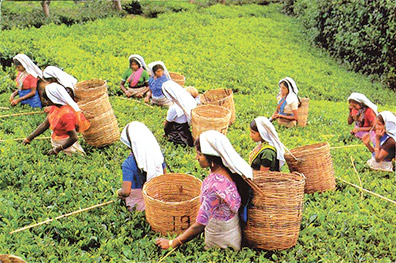 He said the trade unions should be given time to study the new proposals introduced by the RPCs without rushing to implement it.
"We will accept or reject it only after analyzing it. The collective agreement with the workers expired in March this year.
"We need time to study the new proposal. The wages of plantation workers is revised once in two years under a collective agreement," Sivalingam said.
The trade unions representing workers have been clamouring for an increase of the daily wage to Rs. 1,000 which was shot down by RPCs due to low profits triggered by the crisis in the Middle East and Russia.
Planters' Association of Ceylon sources said the revenue sharing model is mutually beneficial and a sustainable solution for plantation industry workers, with room for improvement in the daily plucking average of tea.
Chairman, Planters' Association, Roshan Rajadurai said insisting on the existing model which has resulted in labour costs spiralling has dragged the industry further downwards.
The stakeholders must break away from the redundant thinking of the past and accept present-day reality. "We must move away from the current attendance-based wage system which will lead the industry to disaster. Saner counsel and a spirit of partnership should prevail for the benefit of those who depend on the industry," he said.
The RPCs proposed a productivity-based wage model this year which was rejected by estate sector trade unions.
RPC sources said that with a staggering loss of Rs. 4,000 million in the tea and rubber sector last year, the new proposal enables high labour costs to be controlled by improving worker productivity through performance-related pay.
Under the new model, remuneration depends on the workers' output as opposed to the archaic attendance-based wages, which provides little incentive to increase productivity.
The new model thus gives workers greater control over their earnings.
All the other agricultural, agronomic and management practices and inputs, supervision, support services, logistics and traditional services, facilities and benefits will be continued without any change.