Maldivian VP arrested
To be charged with 'high treason':
Prime suspect in President Yameen murder bid:
Following the Saturday morning arrest of Maldivian Vice President Ahmed Adheeb, charges of 'high treason' are to be pressed upon him today for his alleged involvement in the assassination bid on President Abdulla Yameen Abdul Gayoom, authoritative Maldivian sources told the Sunday Observer.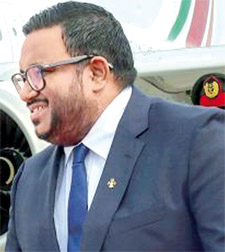 Making a swift breakthrough following the September 28 explosion on board the presidential yatch that injured two security guards and first lady Fathimath Ibrahim, the international team of investigators have indicated that the Vice President was 'the prime suspect' in the matter, as early as October 5.
Based on preliminary investigations, led by the US Federal Bureau of Investigation (FBI) and ably assisted by a top team from Sri Lanka's Criminal investigations Department (CID), the Vice President passport was initially impounded and his movements restricted, though later relaxed.
Adheeb, appointed Vice President in July this year, was arrested at the Ibrahim Nasir International Airport at 11. 45 a.m., upon his return from a visit to China. In addition, a former member of Adeeb's security team and a member of the Army's bomb squad were also arrested.
In a hurried press conference held in Male, Maldivian Police confirmed the arrest of the Vice President. "There is evidence to support this decision," Police Spokesman Ismail Ali was quoted by the media as having said. "He was arrested on suspicion of involvement in the blast," he added.
Meanwhile, the leader of the ruling Progressive Party of Maldives (PPM), former president and half brother of the incumbent President, Maumoon Abdul Gayoom has cancelled a scheduled visit to India to help the party and the government handles the island's new security concerns.
Maldivian sources told the Sunday Observer that homes of persons reportedly loyal to the Vice President are being searched by the Maldivian Police.
"By Saturday morning, lorries loaded with policemen and soldiers were seen on nearly every street," reported Haveeru.Based on advice from Sri Lankan defence experts, Maldives is hurrying to set up an elite VIP security force similar to Sri Lanka's Presidential Security Division (PSD) to provide security to the head of state and other VIPs. Already, Yameen has a special security contingent, a novelty in the Maldives.
President Yameen was unhurt when a bomb exploded inside the presidential yatch close to the island's capital, Male. His wife, secretary and body guard were injured.
At present, the incident is being investigated by the US Federal Bureau of Investigation (FBI), Saudi Arabia, Australia, India and Sri Lanka. Under the Maldivian constitution, the vice-president succeeds the president if he dies, is incapacitated or resigns.
The Vice President of three months famously defended President Yameen's decision to arrest former president Mohamed Nasheed, a well-known human rights activist, by saying: "'a celebrity politician is not above the law."
A Gayoom loyalist, the Vice President assumed office in July and is only 33 years old. He played a significant role in having former vice president, Mohamed Jameel impeached by the Parliament. Maldivian Parliament also lowered the minimum age for president or vice president from 35 to 30 to enable Adeeb to assume office last July.