India offers newest 'Tejas' jet
Competes with Pak 'Thunder' for SLAF orders:
India has offered her brand new, indigenous design, 'Tejas' supersonic jet fighter to the Sri Lanka Air Force even as SLAF commander Air Marshal Gagan Bulathsinghala prepares to visit Pakistan early next month where he is likely to study Pakistan's own supersonic jet offer to replenish Sri Lanka's air defence capability. Air Force officials, however, insist that the SLAF commander's trip to Pakistan is a routine official visit and that Sri Lanka is not committed to buy the Pakistani JF-17 'Thunder' multi-role fighter.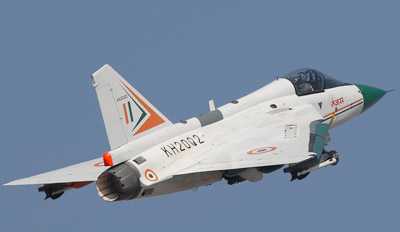 Both the Pakistani JF-17 Thunder and India's LCA Tejas are second rung light fighter-bombers very similar in terms of flight performance and weapons payload and, possessing very modern 'smart' technology but are relatively cheaper when compared with the aircraft of similar specifications manufactured by the big powers.
SLAF officials argue that, despite their high price tags, given the emerging global geo-political scenario, Sri Lanka needs to replace its currently ageing fleet of supersonic jet fighters with a new generation of high technology aircraft.
Although there is some debate in the defence establishment here whether or not the country needs such expensive, high-powered aircraft for its limited aerial defence requirements, Air Force officials, however, claim that given the currently emerging global geo-political conditions, the country needs to be well equipped to deal with a variety of possible threats, and thus requires high performance aircraft of the latest generation.
Top SLAF sources disclosed that following the interest shown by the Air Force in Pakistan's economically priced new supersonic fighter aircraft JF-17, India has now offered the matching, newly designed Light Combat Aircraft (LCA) 'Tejas' as an option for the SLAF. While the Pakistani plane is already in service with PAF, the Tejas is yet under-going trials and is yet to be inducted into IAF operational usage. Defence industry assessments, however, indicate that the LCA Tejas will ultimately rival the Thunder in combat capability.
A Sri Lankan defence analyst, meanwhile, has questioned the necessity of such powerful aircraft for the Sri Lanka Air Force (SLAF), even though certain sections of its ageing fleet need immediate replacement. The expert, who wished to remain anonymous, explained that Sri Lanka, since located in a comparatively safer neighbourhood, should focus more to improve the safety of Sri Lankan air space and disaster management capacities, neither of which would require supersonic jet fighters.
When the Sunday Observer earlier reported exclusively that Sri Lanka was considering a Pakistani offer, India promptly made a counter-offer to Colombo. The Indian offer is its Hindustan Aeronautics Limited LCA Tejas light fighter-bomber, that country's first indigenously designed combat plane, almost wholly locally produced except for the jet engine which is a British-made import.