Hat Seller's Korean coup
'Hat Seller', one of the most renowned children's plays by late Somalatha Subasinghe, proved to be a huge success at the Children's Performing Arts Festival 2015 held at the Asian Cultural Centre for Children (ACC), in Gwangju, South Korea last month. The play was one of the main attractions at the inauguration ceremony.
The Festival was hosted by the Ministry of Culture, Sports and Tourism of Korea, with the aim of providing an opportunity for the people in Gwangju to experience different kinds of performing arts in the world.
A group of 10 Performers of Somalatha Subasinghe Play House, took part in the Festival held from September 4 to 12.
The Festival featured 41 acclaimed children's plays from 11 countries around the world. The 'Hat Seller', was the only South Asian play chosen by the organizers. The script was in English with Korean subtitles.
Speaking to the Sunday Observer, Dr. Chandana Aluthge, the Artistic Director of Somalatha Subasinghe Play House, who accompanied the performers to the Festival said, "This folklore inspired play 'Hat Seller' written and directed by Somalatha Subasinghe was performed four times during the festival, showcasing Sri Lankan culture and creativity. It's great to see how well an international audience responded to our play. We have invested a lot of energy in our plays and we want the world to see them. As Shakespeare says, 'All the world's a stage' and now a little bit more of the world has been our stage."
Showcasing Lankan culture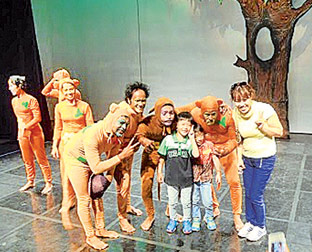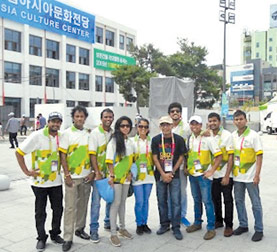 Established in 1981, The Lanka Children's and Youth Theatre Foundation, better known as Somalatha Subasinghe Play House, is recognized as a centre for teaching performing arts. Over the years it has produced a repertoire of internationally acclaimed, mainly musical theatre for children and youth, and award-winning mainstream theatre productions. They have showcased Sri Lanka culture at a number of international children's theatre festivals in Europe and Asia.
Somalatha Subasinghe Play House, is the only Sri Lankan theatre company which is affiliated to the ASSITEJ - International Association of Theatre for Children and Young People - a global theatre network. For the past few decades Somalatha Subasinghe Play House, had a close association with ASSITEJ and represented Sri Lanka in many international theatre festivals organized by ASSITEJ and offered many foreign scholarships for theatre practitioners in Sri Lanka to enhance their knowledge and experience in theatre. As a result of the long lasting bond between ASSITEJ, International Centre in Korea and Somalatha Subasinghe Play House, ASSITEJ Korea promoted Play House, for the Children's Theatre Festival 2015 in Gwangju.
"The Korean Government together with three main ministries initiated this massive infrastructure development project called Institute of Asian Cultural Development, which was established in 2013, and under this they have Asian Culture Complex (ACC) and under the ACC there are various subsections such as ACC Children, ACC Research and Archive and many other," Dr. Aluthge said, explaining that the Play House was invited to perform at the inauguration of ACC Children which is in a way a historical moment.
Good exposure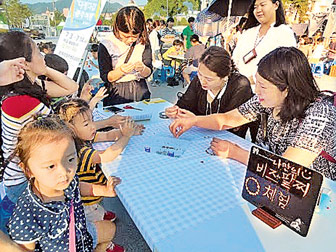 "We are honoured to stage 'Hat Seller' as the first performance at the Asian Cultural Complex for Children in Gwangju. It was a very good exposure for young theatre practitioners of Somalatha Subasinghe Play House," he said, adding that there were few first-timers in the group who had never visited any foreign country or international theatre festival and hence, it was a good opportunity for all of them to understand the nature of different performances.
He said that like many other art forms in the world, theatre has also improved and developed, so much so, for a theatre performance there's actually no need to have a theatre. "In the Gwangju Theatre Festival we experienced many plays which were performed without a proscenium theatre. There was a play where the duration was six minutes.
There was another production which was only played for an audience of four people where it revolved around a family. This second play was staged inside a setting similar to a doll's house where the audience has to look through doors and windows to watch the play," he elaborated.
The cast of the 'Hat Seller' who took part in the Gwangju Theatre Festival were Dilum Buddhika, Mayura Kanchana, Pramodh Edirisinghe, Geetha Alahakoon, Lahiru Rathnayake, Poojana Dandeniya, Mihiri Yapa, Wickrama Senevirathne and Thilina Perera.
An experience to savour
Some of the members of the cast spoke about their experience in performing for an international audience.
Wickrama Senevirathne, better known as 'Kiri Harmi' is the oldest member of Somalatha Subasinghe Play House and he's one of the actors in the cast of 'Hat Seller' which premiered in 1969. For the past few decades he has been involved with Somalatha Subasinghe Play House as an actor and a theatre trainer and has toured widely to perform the 'Hat Seller' and many other dramas produced by Play House.
Working with Subasinghe, over a few decades he realized he also enjoyed working with children, creating music as well as choreography. The Play House provided him with a great opportunity to be part of them and explore all these aspects.
Explaining the latest experience in performing at the Gwangju Theatre Festival, Wichrama said, "The support theatre practitioners get from the Government of Korea is enormous. They are so concerned about theatre and they want to know what's happening in other part of the world as well. There is no doubt that here in Sri Lanka we have lots of talents compared with them but they are incomparable in terms of facilities and technology,"
Gwangju Theatre Festival was Dilum Buddhika's and Pramod Edirisinghe's first time experience in performing for an international audience. At the beginning of the show they were anxious about the reaction of the audience, but found theatre to be a universal language which can be understood by anyone. "It was a great experience and the audience loved the performance. They all understood it very well and were moved by the performance. We were amazed to see the way they treat the artistes and the facilities that have been provided for them in Korea. Although Sri Lanka has many talents, performing arts have not taken into serious attention by the relevant authorities," they said.
Mayura Kanchana is one of the oldest and experienced performers at the Somalatha Subasinghe Play House, and has performed many theatre performances for international audiences. He was of the opinion that although South Korea is one of the developed countries in the world, they were culturally deficient, especially in the city Gwangju and they have recognized it well. "Therefore the Korean Government encourages these cultural programs in every city in Korea and they like to mingle with other part of the world and share and exchange their culture and knowledge with the world."