Students receive gift vouchers for uniform material
The new program to provide gift vouchers instead of uniform materials was launched by the Minister of Education Akila Viraj Kariyawasam at the Ministry of Education, Battaramulla recently.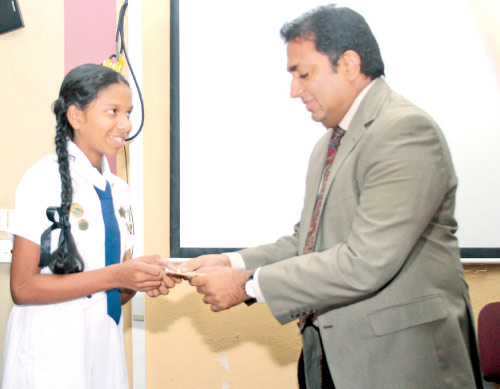 All Provincial Heads, Zonal Heads and school principals were present at the ceremony. State Minister for Education, V. Radhakrishnan, Education Secretary, W.M. Bandusena and other officials were also present.
Minister Kariyawasam outlined the program to provide vouchers to Provincial Secretaries of Education, Provincial Directors of Education and the Zonal Directors of Education. "The new program will help check waste and provide students with good quality uniform material. Rs 83 billion has been allocated for education in Budget 2016. We can use this money for quality development of education through proper management which can be done with the dedication and support of all," the minister said.
He said work without any influence from any intermediary. He said this program could be implemented successfully overcoming all challenges due to the support of President Maithripala Sirisena and Prime Minister Ranil Wickremesinghe and his intention was to provide the direct benefits of education to 4.300,000 schoolchildren.
Uniform materials were earlier divided under three categories and this time they have been classified under 15 categories. Gift vouchers were issued to all students before schools closed for the vacation on December 4.
It is the responsibility of the students to submit the receipt of the cloth purchased when the school reopens after the holidays for first term.
It is important to get a receipt for the cloth purchased and the voucher will be validated by sending a toll-free SMS to 071439000 to enable the cloth dealer to get the value of the voucher credited to his account when submitted to a bank.