[Learn to draw]
Drawing the human body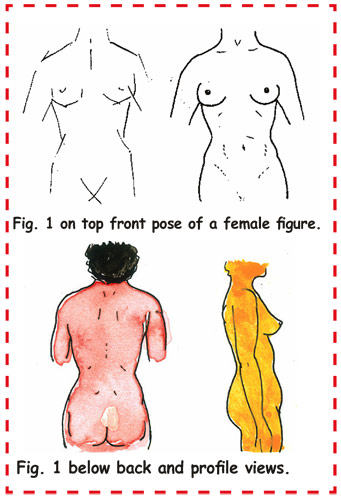 We wrote about the human face turning it to a drawing and painting in our previous lessons. Now we go on to its anatomy whether it is male or female to learn and gain confidence to learn how to sketch a human figure correctly.
There is more to drawing the female figure than a male figure. The female body is much heavier in size, than their male counterparts, due to the layer of fatty tissue women carry.
The human spine is curved as you will observe from the illustration. You will spot the way the neck leaves the upper trunk at a distinct angle.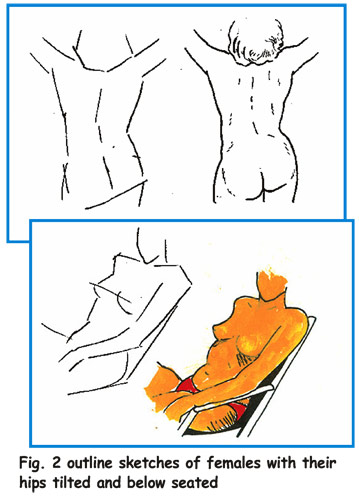 The drawing Fig. 1 on top gives the basic structure of a front pose then the two sketches below are back and profile views. Notice the mass of muscle in buttocks and hips, and how the belly curves gently out.
There are important points to remember when you draw people. If you draw over and under weight people first you will learn rapidly the extent to which bodies differ. My subjects here are normal healthy types.
Fig. 2 shows girls back with their hips tilted and this makes the buttock shape slightly different from the previous drawings. The basic construction lines show the subtle changes.
This is why an accurate outline sketch is vital. Today's daily papers carry the so-called pin up photographs of young models. Books on photography and art can provide other sources. There is no shortage of subjects available for practice. Study each body in Fig. 1 and 2.
Note and sketch with a fine pen the basic structure of the figure. Choose two illustrations from photographs or magazines study them for two minutes and draw them from memory. Practise daily the outline sketches and paint them. For sketching and to paint use 150 gsm slight thick drawing paper, 6,2 and 1 soft Sable hair brush.