HNB bags National Productivity award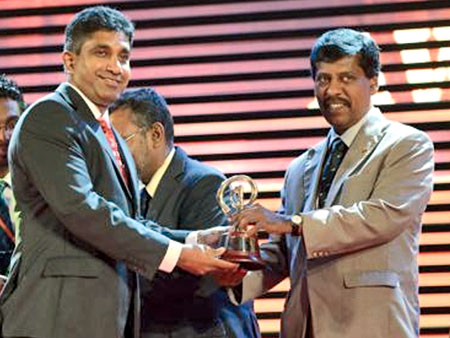 Hatton National Bank (HNB) was the only award winner in the 'Service Sector - Large' category at the National Productivity Awards 2014 at the BMICH recently.
New evaluation criteria was introduced to the competition to elevate it to the standards of productivity awards in Japan, China, South Korea and other member states of the Asian Productivity Organization.
HNB was the only applicant in its category eligible for an award under these new internationally accepted standards. Prime Minister Ranil Wickremesinghe was the chief guest. Representatives of over 100 reputed companies and organisations were also present.
The National Productivity Awards was organized by the National Productivity Secretariat (NPS) of the Ministry of Public Administration and Management under the direction of the Ministry of Public Administration, Local Government and Democratic Governance.
Chief Operating Officer, HNB, Dilshan Rodrigo said, the journey for transformational improvements in productivity at HNB was launched in 2012 during the bank's Strategic Planning Sessions where it was recognized that real efficiencies were hidden within the traditional banking channels, systems and processes. Therefore, it was decided to challenge the business model and processes to realize quantum improvements in productivity and efficiency.
An Operational Excellence committee was set up in 2012, followed by a Process Improvement and Change Management (PICM) unit in 2013. A decision was made to approach this transformation with internal resourcing without the services of external consultants initially, he said.