Debts, a drag on Colombo Port - Minister Ranatunga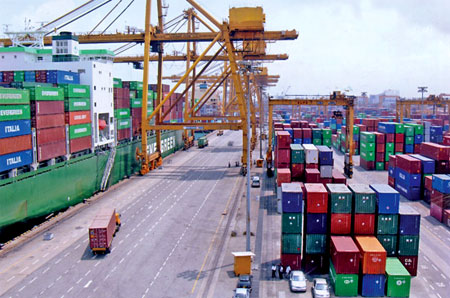 The Colombo Port has earned Rs. 29 billion as revenue in 2015. However, the development of the Colombo habour has been hampered due to debt payment incurred by the government to construct the Hambantota port, Minister of Ports and Shipping Arjuna Ranatunga told the ceremony to mark the handling of the five-millionth container at the Colombo port recently.
He said they have to pay Rs. 192 billion and the government has begun repayment. "We face a big problem in providing welfare facilities to the employees who work in the Colombo Port."
Ranatunga said that he would further discuss the matter with the President, Prime Minister and the Finance Minister and take action to reduce the debt payments of the Hambantota Port.
He said the Colombo Port handled more containers this year than last year and the cargo volumes of the Port have increased by 8.3%.
"Though we are still continuing operations using old equipment and machines, the production capacity per hour has increased from 19 to 29 containers," the Minister said.
Ranatunga said they are aiming to make the Colombo Port to be among the world's top 20 ports this year. Currently the Port is ranked among the top 26.
"Our target is to increase the container arrivals at the Colombo Port by 10% by the end of this year. However, if we complete the construction work of the Eastern terminal, we could increase it by 25%," Ranatunga said.
"We aim to call for EOIs (expressions of interest) this month for the East Terminal," he said.
- RJ