[Short Story]
Back to school
"I feel so excited dad. I wonder how my new school will be like," said Henry to his dad. Mr. Enrique said, "I know my boy, big changes are difficult but that is the way. You will feel good as time goes. Do not worry."
Mr and Mrs. Enrique were occupied the whole week after Christmas preparing to send Henry to a new school. Henry had to be go to a new school in January as his dad Mr. Enrique had got a job transfer and the whole family had to move into a new town.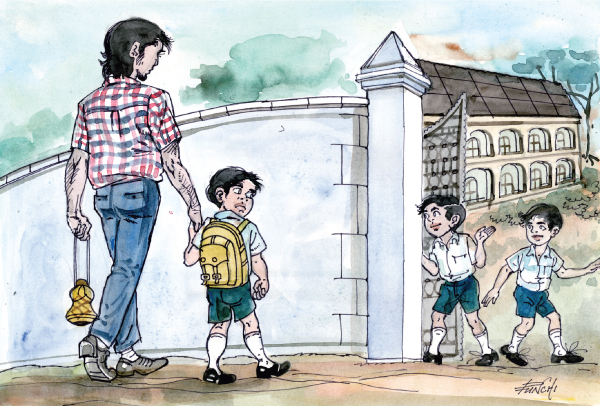 Starting a new school year was a transition for the whole family. They had new schedules to adapt to and lots of preparations at home to get ready to adjust to the new situation.
Henry was worried and feeling nervous. He knew that he was going to miss his old friends, teachers and the school. He had started schooling at S. Thomas' College, Mt. Lavinia and had studied upto Grade six there. He could not avoid shifting with his family down South, though he did not like the idea.
The day had dawned and Henry was starting a new school today. He was so sad and scared. "I don't want to go to school today," Henry told his dad. "I understand my boy. Starting a new school can be very scary," his dad said.
Henry had moved to a new town. He had moved to a new house and he was going to a new school today. He has done all this in just two weeks. "I feel sick," Henry said. "My stomach hurts. I can't eat breakfast too."
"I think that is because you are nervous," dad said. He patted Henry's head. He gave him a little hug. "Try drinking just a little juice. Then I will walk you to school." Henry and his dad walked to school.
Henry was thinking about many things. He was wondering whether he would make friends and whether he will like his new teacher. "What if I don't know the answer to a question? Will the students laugh at me? And what if no one likes me?" were the questions that were running in his head.
"We are here," said dad. Henry looked at the imposing building. His old school was quite different from the new school. Henry wished that he could run away. He knew that he cannot. He took a deep breath and walked up the steps to school. He walked into his grade seven classroom.
"That must be Henry," he heard a boy say. "Hello, Henry!" "Welcome, Henry!" "Let me show you around." Everyone seemed kind and friendly. Henry felt a little better but he was still not happy. He was a little scared and could not eat any lunch.
Dad picked him up after school. "How was your day?" he asked. "It was good dad but I still miss my old friends," Henry said.
"It will get better and big changes are difficult, but with time you will adapt yourself," dad said "I know," said Henry. He reached for his dad's hand as they walked home.