Hirunika's fall from grace
The Sri Lankan political landscape has been built on power inherited through the generations and is steeped in a culture of political aggrandisement, high-handedness and thuggery.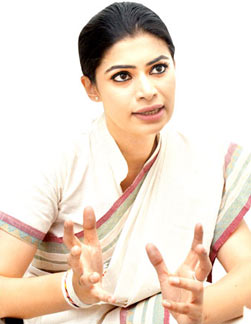 SPEED READ:
Human Rights Commission commences inquiry into complaint
against MP Premachandra
Magistrate Court asks TV stations for video footage of media conference
Suspects in remand till January 4
MP Premachandra makes contradictory statements
Court seeks telephone call log of supporters
Attorney General to decide next course of action
Vigilante violence and its political culture
Violence, intimidation and impunity have been hallmarks of a regressive political culture with a few individuals and literally no party is free from this taint. Many attribute these acts of law breaking and violence to the late 1970s, when during President J.R. Jayewardene's rule, this was their format of governance. During the final years of his Dharmishta society, political thuggery metamorphosed into insurgency and bloody battles, one of the last vestiges of the Premadasa era.
The recent incident where United National Front MP Hirunika Premachandra had allegedly aided and abetted the abducting of a 34-year-old worker from a drapery store in Dematagoda in an attempt to settle a domestic dispute was heavily criticised by the public. Overnight social media became a hive of activity with many regaling the incident as a black mark on the white banner of Yahapalanaya.
Many found her behaviour intolerable, solely because of the political sponsorship she received when she shifted allegiance to a government that has been demonstrating political maturity and respect for democratic principles. The act was indeed unbecoming.
This incident highlights the zenith of such acts perpetrated by politicians. A politician's dependency on a supporter, rests on how mutually beneficial the relationship is. Hence when a supporter requests for assistance from an MP, more often than not, the MP would proudly exercise his or her authority even in the form of 'vigilante violence'.
"She was brought up in an appalling political culture and condition. She should either resign or admit the mistake," said Prof. Rajiva Wijesinha. "She contradicted herself with regard to her connection to this incident.Where is the code of conduct?" he queried.
Prof. Rajiva Wijesinha has for a long time been vocal about a Code of Conduct for MPs which was to be introduced in Parliament in an effort to rein them in. "It is unfortunate that the present government is no longer interested in the matter, although it was one of those pledges made this time, last year."
Time for electoral reform
He added that if the Code had been introduced, it would have made a difference to a situation such as this. Prof. Wijesinha is no longer vocal about the Code of Conduct for MPs but insists that it's still not too late. "The draft was prepared by MP Anura Kumara Dissanayake and submitted. The Speaker even said he would have it printed and distributed," he said.
To-date the draft Code of Conduct for MPs has not seen the light of day.
Prof Wijesinghe also blames the current electoral system as being conducive to political thuggery. "Politicians are often influenced by the conditions of this system; it's a dog-eat-dog system where many resort to thuggery, intimidation and violence for self-preservation."
He attributed the need for electoral reform affirming that it was one of the late Ven. Sobitha Thera requests. It is ironic that only earlier last year, Ven Sobitha Thera called on the Government to implement electoral reform before the General Election.
At a press conference he held as convener of the National Movement for Social Justice he said "If they are going to hold elections without bringing electoral reform, they are paving the way for thieves, drug lords, money launderers and fraudsters to enter Parliament."
Present were, Ven. Athuraliye Rathana Thera, Dr Nirmal Ranjith Devasiri, Prof. Jayadewa Uyangoda, Health Minister Dr. Rajitha Senaratna, Dr. Upul Guinasekera among other representatives.
Six members of Hirunika's security detail and two other supporters were arrested last week in connection with the abduction and threatening of Amila Priyankara Amarasinghe, who worked at a drapery store in Dematagoda.
The gang had abducted him in a Landrover defender belonging to MP Premachandra. Much of the scuffle was recorded on CCTV. Footage showed the supporters forcibly escorting Amarasinghe outside the store and taking him to the defender.
Police traced the vehicle, the number plates were clearly visible on CCTVfootage. The Department of Motor Traffic records showed 3the vehicle was registered under MP Premachandra's name.
Amarasinghe lodged a complaint at the Dematagoda police station that evening claiming that he was abducted by six men who had come in a Landrover defender in the afternoon. Police spokesperson ASP Ruwan Gunasekera said the victim was admitted to the Colombo National Hospital where he was treated for non-life threatening injuries.
The Dematagoda Police launched investigations into the incident which was later preceded by the Colombo Crimes Division.
Contradictions
The MP commenting on the incident told our sister publication, Ceylon Daily News, that "It happened due to a personal dispute between a person said to have been assaulted by one of my supporters.
The youth had abducted my supporter's wife and kept her forcibly. My supporter met me with his two children and explained what took place. I sent all three to the shop where the man works."
She went on to say that her "supporter had asked the man to come out of the store which he refused. The others who went with him brought the man to my party office…"
She categorically stated that no one had assaulted him and he was only advised. "I requested him to release the woman and he agreed. Everything was solved."
Premachandra in a scrambled attempt to clear her name the following day held a rushed media briefing. Hot on the heels of the latest development that was indiscriminately retold in the press, Premachandra who spoke to the media went on record saying she was merely trying to settle a personal dispute.
Suspects remanded
The six security personnel including two additional supporters who were produced before the Colombo Additional Magistrate Priyantha Liyanage were ordered to be produced before an identification parade on January 4.
When the suspects were produced before Court, the Colombo Crimes Division ASP Chandratilleka and OIC Nevil de Silva informed Court that police had received a complaint from Amila Priyankara, claiming that he was abducted and assaulted by a group on Monday (21).
---
Chronology of abduction
Monday, 21 December – A 26- year- old man identified as U. Priyankara is abducted at a drapery store in Dematagoda by an unidentified gang travelling in a Land Rover, considered supporters of UNF MP, Hirunika Premachandra.
Tuesday, 22 December – MP Hirunika Premachandra holds a press conference in Colombo and declares absence of involvement in the incident. Friday, 25 December – MP Premachandra is questioned by the Colombo Crime Division (CCD) following a complaint lodged by U. Priyankara over an allegation of abduction and assault by the MP's personal staff. Monday, 28 December – The Police arrests six of Oremachandra's staff members including her bodyguards in this connection and are interrogated by the CCD. Wednesday, 30 December - The Colombo Crime Division arrests two other supporters of the MP in connection with the abduction and threatening of a person from Dematagoda.
All suspects remanded till January 4.
---
Police failed to take action – Defence Counsel
The Colombo Crimes Division told Court that the defender used in the abduction belonged to MP Hirunika Premachandra. The counsel who appeared on behalf of the suspects denied speculation that MP Hirunika Premachandra was involved in the incident.
Counsel told Courts that the MP's supporters had solicited the assistance of the MP, since the police failed to carry out an investigation over the incident.
He added that the MP was unaware of the incident and gave reasons as to why the suspects should appear before an identification parade. Defence counsel argued that there was no need for an identification parade since the photographs of the suspects were telecast on a private television channel.
Police spokesman Gunasekara said the Attorney General's advice would be sought on the course of action to be taken with regard to MP Premachandra's involvement in the incident.
Police have obtained a court order directing the mobile phone service provider to hand over records of the suspect's phone calls, to ascertain if there were calls made to Premachandra during the abduction.
Unions cry foul
The Convener of the Citizens Organization Alliance Saman Ratnapriya charged that the Attorney General's Department should be given the freedom to make an independent decision albeit political interferences.
During the past few days, the public have decried as to why the MP was not held responsible for the incident. Police spokesman Gunasekera said the MP cannot be arrested merely on her statements because evidence was required beforte an MP could be arrested.
Disciplinary action from the party
Meanwhile Minister Kabir Hashim during a press conference reiterated that police have been given a freehand to conduct investigations. He was asked if the UNP would take disciplinary action against the MP, to which he said that the matter was under consideration but were awaiting police findings.
AG's asks for press briefing footage
In a sudden turn of events the Colombo Magistrate Court issued an order directing TV stations to produce video footage of the press conference hosted by the MP. A Motion was filed in courts where the CCD said the Attorney General's Department had requested for the recordings since it wants to study the abduction to ascertain the MP's involvement.
CCD yet to contact Speaker regarding MP
Deputy Speaker Thilanga Sumathipala when asked whether the Speaker was requested to arrest MP Premachandra, he went on record that he was not informed so far.
According to parliamentary protocol, specifically Section 1 of Parliamentary (Powers and Privileges) Act No. 21 of 1953 the Speaker should be informed of any impending arrest of an MP. He refused to make a comment on the ongoing incident because it was under the purview of the police.
Repeated attempts to contact MP Premachandra for an interview or comment, proved futile. Requests to approach her lawyer for a clarification on the matter was not entertained either.