Channa de Silva - CEO, LankaClear
ICT industry veteran Channa de Silva was appointed General Manager and Chief Executive Officer of LankaClear recently. He took over from Sunimal Weerasooriya who left after an eight-year stint.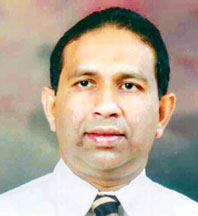 Lank Clear, backed by the Central Bank operates Sri Lanka's national payment network and is entrusted with developing the platform for faster, secure and accessible payment solutions to the nation while harnessing greater financial efficiency and inclusivity.
An old boy of Royal College, Colombo, de Silva obtained his BSc. (Honours) and MSc. in Electrical and Computer Engineering from the State University of New York, USA specializing in Data Communication. He also holds an MBA from the Postgraduate Institute of Management (PIM) Sri Lanka.
With over 22 years' of experience encompassing a spectrum of industries, de Silva brings with him a wealth of knowledge, expertise and business acumen to drive operations and growth of LankaClear and take the organization to the next elevation, with the role out of several ground-breaking payment solutions during the next few years.
Before joining LankaClear he headed the Sri Lankan and Maldivian operations of Singapore based ICT consultancy - Thakral One as the Senior Vice President. He was instrumental in introducing IBM's software universe to Sri Lanka and developing IBM's software business during his tenure as the DGM - Software Group of IBM Sri Lanka.
de Silva also served as the Director - Enterprise Business and Public Sector at Microsoft Sri Lanka where he led the company through unprecedented growth. He held several executive portfolios during his career including CEO at several local IT companies earlier in his career.
de Silva designed Sri Lanka's first ever webmaster with the development of Sri Lanka's first commercial web site lanka.net (1994) and was responsible for setting up the first ever dedicated internet connection in Sri Lanka in 1995. He also played a pivotal role in ensuring that a Language Interface Pack was built in Sinhala and Tamil for Microsoft Windows and Microsoft Office in 2007.