Short-term 'masters'- the bane of quantity surveying
While the standard of education has improved across the board locally, it has not improved evenly or appropriately. One of the areas lagging behind in standards is Quantity Surveying, mainly due to lack of a regulated scheme and qualified resource personnel.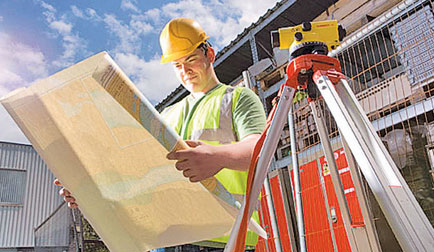 Quantity surveying is a cost and value discipline in construction works where inputs and outputs are measured, priced and paid to a standard or agreed methodology. Yet narrowly defined, the topicality of quantity surveying has been accentuated by the fact that if actual costs exceed predicted costs, the viability of the project vanishes, possibly leaving the client bankrupt, the building abandoned and resources wasted, creating disputes.
Education and training in quantity surveying should be proactive, reflecting global changes in the practice of the profession. However, inadequate funding, dearth of lecturers in the field, poor infrastructural facilities and teaching aids, non-existence of a uniform academic calendar and lack of awareness about the discipline, and dearth of textbooks contribute to poor standards.
Courses
The trend for masters degrees in quantity surveying is an example where the logic behind traditional masters degrees is either forgotten or disregarded. Academics would in any way accept the fact that masters degrees are geared, nurtured and fostered for practitioners who really need academic fill-ups in individual career progression.
For example, those who have a BA in civil engineering have the opportunity to follow a masters degree in structural engineering or transportation engineering to specialize in a particular segment of knowledge. Quantity surveying, primarily by profession, is clearly delineated from the other allied professionals in the construction sector.
Quantity surveying has been developed with the subject elements of mathematics, economics, construction technology, law and management so that any secondary discipline that the industry exactly looks for can be mastered.
There can be masters in cost modelling, bidding strategies, claim management, value management, contract administration, construction procurement or development appraisals for those having a basic degree in quantity surveying.
However, it is unfortunate to see that these short-term 'masters' have become a short cut for membership of some professional entities. The most glaring anomaly is that these masters programs are conducted on a distance education basis, limited to a little coursework, sometimes without any lecturer interaction. Ironically, the number of learning or contact hours approximates to a one-sixteenth of a full-time internal bachelor degree.
Similar to masters, lateral top-up degrees are the norm in modern education circles in many countries where liberal education policies have been adopted. However, this should not mean to open a flood gate. The question of 'top up' must be wholly left for academicians to decide on the appropriate placements considering a host of factors; such as course curriculum, lecturer and supervisor interaction, number and depth of course work, dissertations, in-plant training, workshops and student presentations, industry visits, group work, video and audio presentations, debates and various other university specific elements. It has no injustice to say that the integral parts of a basic degree should be closely followed before the grant of appropriate placement in top up degrees for technical level industry personnel.
Challenges
All challenges facing quantity surveying education cannot be possibly discussed in a single article. Previous research highlighted many problems and offered possible solutions, though some of the proffered solutions are impracticable. Though simplistic in face-value, these solutions can revamp the profession if adopted collectively and spiritedly. It is only logical that the situation in the industry reflects what obtains in academia.
More importantly, basic degree level qualifications that are now sought by prospective employers and will be a boon to Sri Lankan students seeking a quantity surveying degree to further their ambitions of gaining employment in a field offering attractive remuneration and opportunity for migration. This essentially warrants proper training and competence the basis of which should admittedly be a structured form of education backed by broad theoretical and scientific know-how.
However, a large number of private universities and institutions in Sri Lanka offer foreign degrees or so-called 'equivalents' without any concern over fundamentals specific to techno-based education programs.
A good library and student resource centre with adequate reading and study material, computer laboratories with up-to-date hardware and software and high-speed internet connections, fully-equipped engineering and science laboratories, classrooms with proper seating, space and basic facilities such as multimedia and internet are considered to be the absolute minimum for any university student.
Therefore, parents must be vigilant in the choice of advertised affiliations to various foreign universities which has unfortunately become a fashion for short-term on-the-job courses.
Accreditation
Common entrance and exit needs are often used as quality proxies which are an integral part of any accreditation scheme. Accreditation is the process in which certification of competency, authority, or credibility is presented.
The standards for accreditation are generally set by a peer review board to ensure that the certification practices are acceptable, typically meaning that they are competent to test and certify third parties, behave ethically and employ suitable quality assurance. However, simply starting courses without having the basic facilities including the resource personnel qualified in quantity surveying is cheating innocent parents and children.
Under such circumstances, a State mechanism to regulate quantity surveying education has become more significant than ever. Indeed, no one would object to privately initiated education as long as it is spearheaded by a central coordinated arm.
The Institute of Quantity Surveyors, Sri Lanka (IQSSL) sets standards for quantity surveying education as stipulated by Parliamentary Act No 20 of 2007. If anyone ignores this aspect of standards, by-passing the institute, it cannot be overlooked easily. Quality is never an accident; it is always the result of high intention, sincere effort, intelligent direction and skillful execution; it represents the wise choice of many alternatives.
The writer is a Chartered Quantity Surveyor.