Ariyasinghe new BOI DG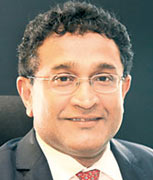 President Maithripala Sirisena appointed Duminda Ariyasinghe as the Director General of the BOI. Ariyasinghe joined the BOI in 2005 and specialised in Investment Promotion, Investment Appraisal, Project Implementation and Monitoring/After-care functions.
He has managed strategic development projects with large FDIs such as the Shangri-La and ITC developments. Prior to joining the BOI, Ariyasinghe headed senior positions in marketing with Procter & Gamble, Kraft Foods and H.J. Heinz in the US and Canada.
In 2012, he was awarded the Lee Kuan Yew Fellowship by the government of Singapore to complete a Masters in Public Management (MPM) at the Lee Kuan Yew School of Public Policy at the National University of Singapore and John F. Kennedy School of Government at Harvard University, USA.
During the program, Ariyasinghe was attached to the Economic Development Board (EDB), Singapore, which is considered the gold standard among investment promotion agencies and has played a key role in the city state's rapid development.