Parliament as Constitutional Assembly
Nation invited to join uniquely transparent, public process: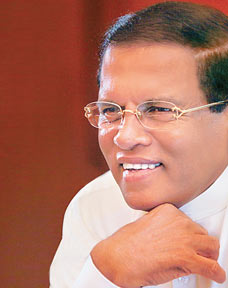 Supporting the historic Resolution to convene the current Parliament as a Constitutional Assembly, President Maithripala Sirisena yesterday, in a special address to Parliament, assured economic prosperity, reconciliation and national unity under a new constitution which the government hopes to bring in this year overcoming extremist forces. Prime Minister Ranil Wickremesinghe tabled the Resolution in the House.
The President's speech, which announced the converting of parliament into a constitutional assembly, also marked the beginning of his second year in office.
Calling for a broader national consensus to draw up the new constitution, he said the ultimate aim of the government through the constitutional remake is to create a State geared for the 21st century, eliminating poverty among other things. "Everyone must get together to bear a "beautiful constitutional offspring", without contributing to sabotage this process," he said.
The President warned vested interests and extremists not to mislead people and project the constitution making process as a 'bogeyman'.
Rejecting claims that the reforms had been dictated by the West and, that it would downgrade the status of Buddhism and country's defence forces, he warned against attempts to create unrest in the country.
"The new constitution will be drafted by Sri Lankan intellectuals for the Sri Lankan people and the government is not being dictated to by any outsiders," the President stressed.
He said, however, that everyone needed to understand the ground realities of the country and the aspirations of all the people, and relapse in to a state of denial. He said this fear psychosis is a weapon used by extremists every time there were attempts to bring in constitutional changes to address the national issue.
The President also addressed arguments that the executive presidency should be retained because it helped stop the decade long war. He questioned if the proponents of that argument were anticipating another war in the country. "Better to eliminate conditions that will make way for another war rather than anticipate another war," he pointed out.
He said the country did not need another brutal conflict where hundreds of thousands of people perished in the North as well as in the South, in a long painful 26 years and the on-going initiative was to eliminate the residual conditions that would re-escalate into a bloody war.
Parliament adjourned after the President's speech and re-convenes on Tuesday morning to vote on the historic Resolution.