Buddha's journey from Moghalmari to Sri Lanka
A lecture and power point presentation on by Ms. Kanchana Mukhopadhyay: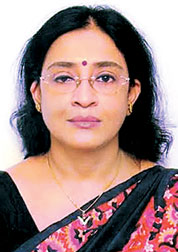 The Indian Cultural Centre, Colombo will host a lecture with power point presentation on 'Gautama Buddha's journey from Moghalmari to Sri Lanka' at 6.00 p.m. on January 13, at its auditorium at Indian Cultural Centre, 16/2 Gregory's Road, Colombo 7.
Kanchana Mukhopadhyay started her career as lecturer in History in a college in Kolkata and worked in different archives in France and England as research scholar. She is the founder of INTACH (Indian National Trust for Art and Cultural Heritage) Conservation Centre in Kolkata and the co-convener of Calcutta chapter of INTACH. She is also the former president of Alliance Française of Bengal.
By profession a Publisher and Bookseller, Kanchana received the prestigious insignia of 'Chevalier de l'Ordre des Arts et des Lettres' (Knight of the Order of Arts and Letters) from the cultural ministry of the Government of France.
The newly excavated site of Moghalmari in West Midnapur District of West Bengal reinforces the account of famous Chinese pilgrim Huen-Tsang that in Tamralipti region existed at least ten monasteries and minimum one thousand monks lived here. Though the name suggests the defeat of Mogol soldiers, the excavation unearthed the ruins of a much more ancient monastery named Vandak Mahabihar, perhaps a Vajrajana Buddhist seat of learning which dates back to 6th century. The further excavation will bring into light the true story of this place, leaving aside the myth of primary school (Pathshala) of princess Sakhisona or remour of Mughal defeat. Perhaps the biggest Buddhist Bihar in West Bengal waiting to be unearthed in this place.
Contact the Indian Cultural Centre, No.16/2, Gregory's Road, Colombo - 07, Tel.No.2684698 or email: [email protected] for more details