Book Review
A serious reflection on a nation's crisis
Leonard Pinto, an ecologist and an author of works on ethics and social justice, has taught and researched at universities and industry in Australia, the Philippines and Sri Lanka. In this enjoyable book, he has put together a vast amount of information on historical, political, social and religious matters with lucid analysis and sober reflections.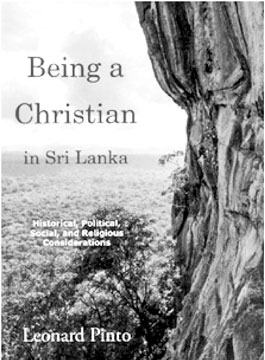 The theme of the book is the contemporary Sri Lankan situation. In the recent decades, Sri Lanka has received global attention as a place of explosive violence. Conflicts have mainly arisen from the nation's inability to deal with its internal tensions, which have been caused by economic and political inequalities, as well as ethnic, religious and cultural divisions.
Timely reminder
Sri Lankan-born Leonard Pinto demonstrates a profound concern about the nation's plight and considers that Sri Lanka can become a stable and prosperous nation on the basis of its people arriving at a common national identity while accepting, or in fact celebrating, diversity as part of its rich historical heritage.
This book is a timely reminder of the traumatic impact of the national identity crisis caused by a discourse created by a group of narrow-minded 'intellectuals' for political gain. That discourse is known infamously as the 'Sinhala-Buddhist cultural identity', created with the view to achieve a few advantages at the cost of pushing the nation as a whole into a kind of 'social schizophrenia'. Pinto gives some examples of the teachings of these so-called Sinhala Buddhist intellectuals, who talk about 'Buddhist mathematics, the need to reject western philosophy and that Christianity has been born out of Buddhism', along with other rhetoric against minorities. This cultural identity today contributes to the economic, social, political and cultural ruin of the country as a whole. It has also caused international disrepute to Sri Lanka.
The book consists of the following chapters: Historical Aspects of Christianity in Sri Lanka; Western Christianity and its 'Inculturation' in Sri Lanka; Sinhalese and Tamil Christians; Service through Christian Institutions; Unity in Diversity: Freedom in Christian Thought; Teachings of Jesus and the Church; Does God Exist?; Ethics and Christian Morals; Buddhist Sinhala Nationalism; Propaganda against Christians; Buddhism, Hinduism and Islam in a Pluralistic Society; Marxism and Materialism; Science and Religion; The Power of Prayer; and Future of Christianity (Catholicism) in Sri Lanka.
Pinto argues against the rather narrow-minded criticisms and false propaganda against Christians that have arisen mainly out of the type of nationalism that emerged after Sri Lanka's independence in 1948, when there were attempts to build narratives about the greater importance of one ethno-religious group against all others. He demonstrates the falsity of this narrative and the depth of the damage this has caused to the unity of the nation.
The underlying theme of the book is to argue for a saner approach to understanding and appreciating each other, thus creating a firm basis for generating internal strength, which should be the aim of developing an authentic narrative about the nation.
As one continues reading, one cannot help but be sad about the pathetic plight that Sri Lanka has gotten into, mainly due to its inability to transcend petty disputes and generate a nobler moral and ethical sensibility for the foundation of the nation's stability and prosperity. The author exposes the nonsensical nature of the misinterpretations of many elements of history, and the type of argumentation that 'misguided nationalists' have pursued in the past decades.
Pinto also tries to correct a common misconception in attributing all that is evil to 'videeshiya akramana' (foreign invasions), meaning the occupations by the Portuguese, the Dutch and the British and points out that these invasions "in reality happened after the Sri Lankan Kings invited them."
Cultured people
Talking about what the Sri Lankan identity needs to be, Pinto writes that the basis of this identity should be 'culture'. By culture, what he refers to is the refined way people think, act, communicate, make decisions and demonstrate their values and taste.
Pinto says, "cultured people do not look down on others, because of their status, origins, religion, colour or the language they speak. Cultured people value humanity, as a whole and practice, 'love your neighbour as yourself'. So the cultured people can be found among different ethnic groups, as well as among religious groups. They can be found among the rich and the poor and those who can and cannot speak English. Culture refers to values, and civilisation to organisation." [p.491]
A careful reader would note the importance that the author attaches to religious diversity as a source of strength in consolidating a nation based on values common to all religions.
Thus, the criticisms the author makes against the so-called Sinhala Buddhist discourse is a call to return to the powerful original teaching of the Buddha himself.
This is quite a timely book. It is not only the work of a seriously concerned citizen, but also of a scientist, who has seriously reflected on his nation's crisis and thought it fit to devote many hours to writing this comprehensive book to place before his people and the world his thoughts for their kind consideration.
One can only hope that sane counsel will prevail in Sri Lanka and that this committed Sri Lankan intellectual is given the consideration that he deserves.