Slick, sharp and insidious
Disquiet over the increasingly ubiquitous 'Sinha -le' stickers: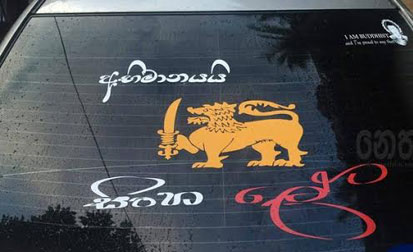 Fastidiously crafted to capture the attention of the passerby, the white and yellow Sinha-le slogan captioning a yellow lion, appears innocuous at first glance. However, its sudden proliferation on buses, cars, bikes and assorted surface and its cruder graffiti on walls and gates, signify something far more ominous.
What exactly is Sinha-le all about? The question is as pertinent as the concerns over what the campaign implies, for Sri Lanka cannot afford to fall into the rabbit hole of racial intolerance and bigotry it found itself in not so long ago.
Elsewhere in this page, three guest writers openly and boldly express their concerns about the Sinha-le campaign and the danger it poses to national unity.
Their concern is also echoed by a discerning segment of society on social media, more specifically facebook.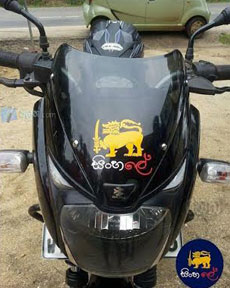 Short of banning the Sinha-le stickers and penalising all vehicle owners displaying it, which move would not only infringe on freedom of expression but would also be deemed draconian, tackling the new threat is a dicey issue.
But lessons can be gleaned from the Brazilian Government, which engineered an ingenious means of tackling racism in the digital age. Taking racist comments on facebook to a whole new level, they put them up on billboards! The objective of the anti-racist campaign was not to expose anyone but to educate people that their words have real impact.
The campaign titled, 'Virtual Racism, Real Consequences', used the location tag from Facebook posts to find where the offenders lived, bought up billboard space in the neighbourhoods, and put up the comments blurring out the names and photos of the commentators. The campaign was the brainchild of the Criola Group, a nonprofit organisation, which works towards defending the rights of black women in Brazil.
"We omit names and faces of the authors because we have no intention of exposing anyone. We just want to educate people so that in future they think about the consequences before posting racist comments," states the project website.
If those spearheading racist campaigns have a creative licence to create disunity and disharmony, then those voicing concerns against them should ideally up-the ante and being creative about it would just be a bonus.
- Rukshana Rizwie