Sri Lanka belongs to Everyone...
Who lives in it:
I believe all people yearn for a sense of identity. We like that feeling of community and the sense that we're a part of something bigger. This is often what gives our life a sense of purpose. People like to be proud of who they are and where they come from. Often, if we can't build these around positive values, too many of us will gravitate toward one built around negativity and hate. This is how terrorists are born.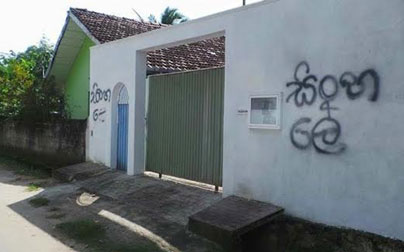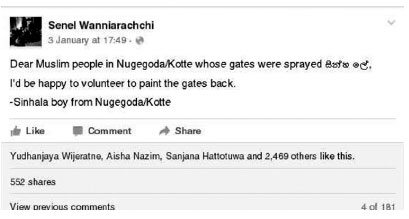 Race and ethnicity are not biological categorisations. They're human constructs. There's no unique gene (nor type of blood!) in people of specific races or ethnicities. Identity is fluid. However, the reality is that we have tied ethnicity so tightly to identity and it continues to play an exaggerated role in our lives. When you define who you are by the ethnicity you were accidentally born into, you limit who you are as a person. This affects how we see ourselves and how others see us.
For me, being Sri Lankan transcends narrow, parochial ethno-cultural identities that divide us.
Last week, when I saw on social media that certain Muslim households were sprayed with the word Sinha-le, I must confess that my first reaction was anger. It made me angry that when there's a glimmer of hope for unity in this country, there's always someone who finds a way to destroy it.
My second reaction was that the others in the neighborhood should probably get together and offer a paint-job. While the residents of those houses could have easily painted the walls back, I felt that it might be a good show of solidarity. My sister then informed me that those houses were in fact in Nugegoda.
I live in Kotte, which is the adjacent town and my grandparents' home was in Nugegoda. It's where my mother grew up as a child and where I grew up and I realised the ball was now in my court to live up to the mental standards that I set out initially. The offers for support online as well as offline have been incredible and it has given us faith.
Since then, my friends and I have approached some of those houses and offered support and we're hoping to get a positive response. We're also planning a few more long term actions that we feel might help reiterate the importance of being united in our diversity.
While it's important to respect a person's right to celebrate certain aspects of his identity or heritage or perceived heritage, pride in being Sinhala appears to be a lot like a recipe for racism. As for me, my heritage is diversity. Far too many of my ancestors have died in the name of perceived narrow divisions. History has taught me that it's my duty to be able to defend the rights of fellow Sri Lankans to be different, to think and believe in different ways and live different lives.
Post Apartheid South Africa's Constitution begins with the preamble 'We, the people of South Africa, recognise the injustices of our past; honour those who suffered for justice and freedom in our land; respect those who have worked to build and develop our country; and believe that South Africa belongs to all who live in it, united in our diversity'.
The Government of Sri Lanka has promised to architect a new constitution for the country and I hope this would be a document that recognises our own the mistakes and injustices of the past and recognises the inalienable truth that Sri Lanka belongs to everyone who lives in it.