Kidney poser continues
As patients and public await report by 5-member committee: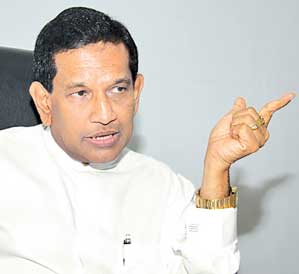 As the debate on human organ transplantation continues, the question on the lips of hundreds of persons whose lives now hang in the balance, as they wait for the final verdict of the five-member Committee appointed to investigate the kidney racket involving Indian patients and Lankan surgeons, is what happenes next.
According to Indian media reports at least six hospitals in Sri Lanka had been involved in illegal kidney transplant surgeries using 'paid' for kidneys from Indians coming here as 'donors'. The news was published in the Indian media recently.
The issue which earned dubious honour of headline news in almost all local media, both print and electronic, has raised several important questions among the public and medical circles.
The procedure itself is not new, since Sri Lanka already has a Human Tissue Transplantation Act introduced several years ago, which permits local surgeons to perform transplant operations on critically ill patients who need to replace damaged organs.
What has made this an overnight public issue is perhaps the decision to put on hold the pending transplant surgeries of several foreign patients (reportedly 29) awaiting surgery in the six hospitals now under scrutiny.
Cabinet Spokesman and Health Minister, Dr Rajitha Seneratne, responding to public outcry last week appointed a five-member Committee to investigate the matter and submit their findings as soon as possible.
The report, which was expected by Friday has now been postponed till the end of this week. Until then all transplants on foreign nationals have been put on hold.
Chairman of the five-member Committee, Dr Jayasundara Bandara said, "One cannot rush these matters, as this is an important issue concerning everyone.
"We are still collecting information as we don't have sufficient information to make up a complete report." Asked to explain the objective of the report, he said the two main objectives were:
1) If the operations were compatible with the existing legislation relating to transplant surgeries or whether there had been a deviation
2) If there had been a deviation who was responsible.
"The Health Ministry is responsible for all hospitals that perform these surgeries, whether private of state. We need to go into the matter carefully," he said.
Private Hospitals Association
A recent statement issued by the Private Hospitals Association, and published in the newspapers stated, "Member hospitals of the Association perform a variety of surgeries for local and foreign patients. Kidney transplant is one such surgery performed in these hospitals. Organ Transplant surgeries comes under the purview of the Transplant of Human Tissue Act ( No 48 of 1987) Sri Lanka. As such, the hospitals comply with rigorous regulatory and legal procedures as established by the Ministry of Health. As such surgeries are authorised by the Ministry of Health prior to surgery. All members abide by this procedure."
Responding to this statement, Dr Bandara said, "Just because someone makes a statement, we cannot accept it.
"We need to find out if it is true and how accurate it is. We are investigating into this and seeing if the procedure that was followed was within the legislative framework as stated."
GMOA
The Government Medical Officers Association (GMOA) when contacted repeated what it said in the article titled, 'Whose kidney is it?' published in the Sunday Observer last week. GMOA spokesperson, Dr Navin de Zoysa reiterating his statement said, "Human tissue transplant is a complex issue. Whether the donor is living or is a cadaver, it raises several ethical questions. But they need to be sorted out soon. We are glad a special committee has been set up to investigate the matter. If there are any doctors who have violated medical ethics they should be punished. But any investigation must be done with transparency so that we know exactly what is going on. At the same time a decision on how soon patients waiting for such transplants with surgeries now on hold, must be made quickly. It is not like constructing a road or a building which can be put on hold indefinitely.
These are people for whom time is running out and every minute counts if their own organs have packed up. These surgeries should commence without further delay or they could die."
Commenting on the existing law, he said, "The Human Tissue Transplant Act No: 48, is an antiquated law passed in 1987. It needs to be revised, updated and brought in line with present trends especially now that the demand for transplants has surged- especially for kidneys in our own country where so many suffer from chronic kidney disease.
If protocol and guidelines have to changed to do this, then this must be done as soon as possible. It is the responsibility of the Health Ministry to take this initiative."
He said the GMOA was willing to co-operate with the government and the Health Ministry to achieve this end. "But any investigation, as well as new protocol and guidelines regarding transplant procedure must be transparent and carefully monitored by the Ministry to ensure legal boundaries are not violated".
Police
The Colombo Crimes Division (CCD) has initiated independent investigations on the matter, on the instructions of the IGP, following a request by the Director General Of Health Services, Dr P.G. Maheepala..
Media spokesman ASP Ruwan Gunasekera said "The CCD commenced investigations under the direction of ASP Nuwan Wedasinghe, director CCD. The investigations are still in the initial stage. We cannot comment on them."
Asked what areas the investigations would cover, he said, "Our focus is to investigate the criminal background of those involved."
Information officer of the Indian High Commission Ms Eisha Srivastava said, "We have still not received a communiqué from the Sri Lankan Government on this matter, nor have we been approached by the Lankan authorities.
All our information so far has been limited to media reports and I don't want to comment on such reports."