Chandana Ranaweera's evocative creations:
Life and love in black and white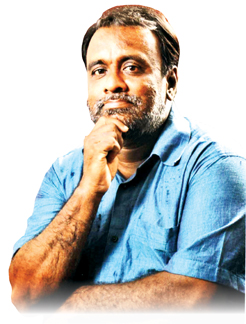 Black and white, in the ordinary world may sound like too harsh opposites, with no room for nuances in between. But on canvas, in deft strokes and artful curves, the two opposites can converge to tell a hundred different tales far more nuanced than what shades and hues and tints and tones can only hint at.

This is certainly the case when one stumbles upon the creative magnificence of teacher- turned-fulltime artist Chandana Ranaweera, who has wielded the simple tools of pen and ink with great dexterity to create unique pieces of art that are both captivating and thought provoking.
Ranaweera, who taught art for the past 20 years and retired recently due to ill health, has made pen and ink his forte, rejecting the versatility of paint brushes and colour pallets, to create a style that is uniquely his.
Ranaweera, who comes from an academically inclined family - his father was a school principal and his mother is a retired school teacher - received his primary education in Alawwa, where he hails from, and followed a course in art at the Ceylon Society of Arts. Though for most parts he is a self-taught artist, with no true guru, he says his stint with the Society of Arts helped him gain more insight and experience about painting, specifically his kind of painting, which has over the years seen him hold several successful exhibitions in Alawwa, Kandy and Colombo.
In lines that are sometimes stark, sometimes soft but always evocative, he transforms the ordinary into extraordinary and the mainstream into exquisite, like the village scene or the Vesak scene, all of which snags the attention of even the non-connoisseur of art and holds it captive, until sense in made.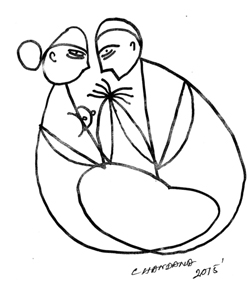 Ranaweera simply calls his style line-drawing and says it does not leave room for mistakes. How much the viewer perceives this perfection is moot, but what each piece does is impart a message, which could either be something the artist wants to impart and what the viewer interprets.
Most of Ranaweera's creations have a spiritual quality to them. And the reasons for this becomes clear as one gets to understand that he spent most of his life in the corridors of temples in his hometown. This fact is also reflected in the murals and cave art that he favours.
Ranaweera's style is stark, modernists and hints of a Picasso influence. He doesn't comment on this, but says his drawings attempt to dramatise personalities and situations, using black ink and white space to give depth, dynamism and vitality to the creations.
His style and daring have earned him deserved recognition, with each new collection put on display drawing appropriate 'oohs' and 'aahs' from enthralled viewers.
-Staff writer