GEORGE FREDERICK SIRIWARDENA
George Siriwardena's centenary birth anniversary falls on January 30, 2016, but he left us forever three years ago. He spent an exemplary life and was popularly known as 'George' but to me he was 'Pelawatte Siriwardena Aiya', as I associated closely with the Siriwardena family when they were residing in Nugegoda. They are closely related to us, as his brother-in-law is married to my cousin.
I still remember Siri Aiya and his family with the kids Prasanna, Champika and Wasantha who visited us in Kandy to see the Kandy Perahera. For the past 50 years we maintained a close relationship.
Siriwardena Aiya hailed from a respectable family in Tihagoda, Matara. His father was the Village Headman of Polwathumodera and his mother was a teacher. He lost his father at the tender age of six and his mother took charge of him and his sister Ada, who later became a principal. He was educated at the Anglo-Vernacular Boys' School at Mirissa and later at St. Thomas' College, Matara.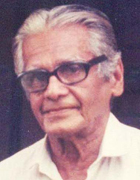 Having started his career in the Health Department as a Public Health Inspector, he became a Health Education Officer and served the country in many parts of the island.
He was popular with the villagers. I remember Siriwardena Aiya's tall, handsome figure, he looked like a film star in his young days. Several of his pictures appeared in publications issued by the WHO. I stayed with the Siriwardena's at Pelawatte Road, Nugegoda during my university days. I am grateful to them for providing me a comfortable stay in Colombo. I lived with them for nearly a decade, until I married and moved out.
Siriwardena Aiya was attached to the Badulla Health Office for a considerable period and later joined the Colombo Office mainly for the benefit to educate his children. After retirement from the Government Service in 1975, he joined the CNAPT office in Colombo and conducted seminars and workshops on TB for more than two decades.
Siriwardena Aiya was well-read, entertaining and a friendly person who was multi-talented. He was a good speaker in Sinhala and English. He was a talented artist, poet, and columnist whose cartoons and poems were also published in several journals. His two sons are influenced by these talents, as the eldest son Dr. Prasanna is a good artist and the youngest son, Wasantha is a professional cartoonist and served the Sunday Times. he now works in the Sunday ObserverChampika the only daughter is a science teacher at S. Thomas' College Mt. Lavinia.
Siriwardena Aiya spent his last days with his daughter in Thalapathpitiya, Nugegoda and was well looked after. He was blessed with four grand children, Supun, Rumal, Nipun and Praween.
He opened bank accounts for his grandchildren and put money from his pension on a monthly basis. His health was well cared for by his son Dr. Prasanna and daughter-in-law Dr. Pradeepa.
During his last stages Siriwardena Aiya had a comfortable life, thanks to his dutiful children and their spouses. Siriwardena Aiya and his wife, who predeceased him, were two courageous people that I have met.
May they attain the supreme bliss of Nibbana.
Nimal Malli
(Nimal Gunaratne)