Celebrating India Day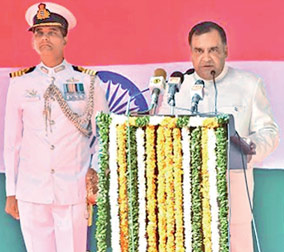 The High Commission of India and the Indian expatriate community in Sri Lanka celebrated the 67th Republic Day of India on Tuesday, January 26, 2016 at India House in Colombo. High Commissioner Y.K. Sinha unfurled the Indian flag and inspected a Guard of Honour presented by a contingent of the Border Security Force.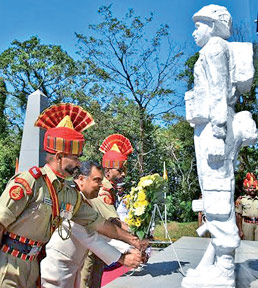 He read out excerpts from the Address to the Nation on the eve of the Republic Day by Pranab Mukherjee, President of India, and later spoke at length about Indo-Sri Lanka relations, highlighting the increased cordiality, and cultural, commercial and defence ties between the two countries.
The flag hoisting ceremony was followed by a brief cultural programme organised by the Indian Cultural Centre, and included singing of patriotic songs and dance performances by the students of the Indian Cultural Centre. Subsequently, the High Commissioner of and other officials of the High Commission paid their respects to the memory of fallen soldiers of the Indian Peace Keeping Force (IPKF) in a solemn ceremony at the IPKF memorial in Colombo.
To commemorate India´s 67th Republic Day, famous Indian sitar maestro, Shri Purbayan Chatterjee, and his group, presented a concert titled'Stringstruck' on January 25, 2015 at the Bishop's College Auditorium, Colombo. Karu Jayasuriya, Speaker of the Parliament of Sri Lanka was the Chief Guest at the function. The performance was extremely well received.
The Consulates General of India in Jaffna and Hambantota and the Assistant High Commission of India in Kandy also celebrated the 67th Republic Day by organising flag hoisting ceremonies on the same morning.