MUSIC
Basking in the Heat wave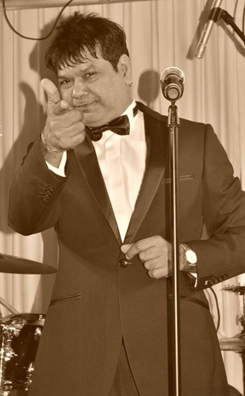 How time flies! Today is the last day of January and it seemed like only yesterday that everyone was saying goodbye to 2015 and welcoming 2016! Aubrey Weiman and Heat were in full flow at the New Year's Eve dance at the Cinnamon Grand. "It was a successful dance for us at this stand out venue. We had a rousing midnight medley and with Watsala Goonatilleke joining us on the vocals, we took the dance to a high" expresses Aubrey who is happy with the performance of his band Heat. Heat have a large following of fans and in fact they have been enjoying success ever since they started off in the Sri Lankan music industry. The good news we have for you is that come March, Aubrey and his band will take wing again to the States, Canada and Australia to entertain the Sri Lankans domiciled there and who are eagerly awaiting their arrival."This time our tour is going to be interesting. We are invited to perform at the dances by the old boys of Royal College, Old Anthonians and the Nugegoda Saints. Our schedule will see us on stage in New York on March 15 and 19, Los Angeles on April 2, Toronto on April 9, Australia on April 16 and we go back again to Australia on July 4. We have made a big name for ourselves we are a brand now and we have to make sure that our brand goes on - so we are once again looking forward to our tour."
Heavily influenced by the music of Richard Marx, Michael Bolton, Lionel Ritchie and the Sri Lankan band Cardinals Outburst, Aubrey Weiman enjoys singing ballads and the music of the 80's. What's his opinion of the present music scene?
"There are a lot of bands in today's music scene in Sri Lanka and with this factor a lot of competition. That's good. Because apart from having a wide repertoire you have to involve yourself in social media. It's hard work. Our repertoire reflects the hits of the 60s, 70s, 80s to the current contemporary hits _ be it Enrique Iglesias, Pitt Bull or say Ed Sheeran, Justin Bieber, One Direction, the list is long. What the ladies want - well we do those songs!"
Heat have been on the scene for something like 15 years and the band has played at almost all the night clubs and all the hotels in Colombo - Hilton, Galadari, Mount Lavinia Hotel, Inter Continental Hotel, Trans Asia and out of Colombo at the Tangerine Beach Hotel. The present line up reads Aubrey Weiman - vocals/sax, Dhamika Sugathapala - lead guitar, Subash Fernando - bass, Indika Addikari - drums, Chaminda - keyboards and Kithsiri Gunasekera - keyboards/vocals.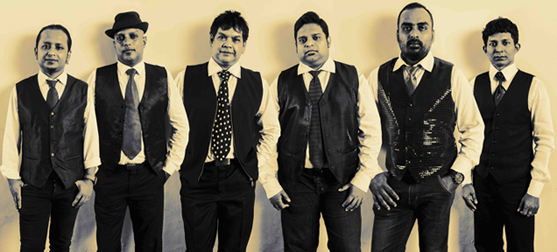 Catch the exciting sounds of the band at the Margarita Blue on Thursdays. Incidentally Aubrey is a popular host at the Ladies Night at the Margarita Blue. On Saturdays The Breeze Bar at the Cinnamon Grand sees the band in action with a repertoire of pop, jazz, rock, reggae, baila and cultural music. Take your pick. Other dates that you can keep are on Wednesdays and Fridays at the Keg Pub and on two Sundays and Mondays at the Kingsbury Lobby Bar.
In a spool back for the beginnings of Heat, Aubrey admits that he never expected to come thus far with success.
"I was keen on music from my young days, and on having my own band. There were a couple of friends like Christopher Mant and Dave de Hoon who were playing in a band, we got together and the guys were with me for a long time. We were wondering what to call the band and then an inspiration struck us.
At the time we started there was the band called Burn and they were able to turn the heat on everytime they took the stage. So we decided to call our band Heat. At this stage I must say a big thank you to Mary Ann David for moulding me into the singer that I am today. She's fantastic! I have had no problems with my musicians. They never falter on rehearsals, we have it once a week on a certain date and they are punctual.
"I tell them what the next set of songs are and they prepare the songs. Now for instance we are going to the States and we have already got a list of songs they would like to hear and I've given the members of my band the list to rehearse. In the meantime make a special date with Heat on March 3 as we invite you to a Sing-a-long session at the Galadari."