Seeking PM's intervention 'shameful':
Identity crisis in UPFA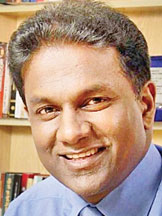 Deputy Speaker Thilanga Sumathipala said it was a shame that a group of members elected to Parliament from the UPFA is seeking Prime Minister Ranil Wickremesinghe's intervention, to resolve an internal matter relating to their identity within the UPFA.
The Prime Minister told Parliament on Wednesday (February 10) he had to talk to President Maithripala Sirisena, the UPFA leader regarding this issue, since all these Joint Opposition MPs were elected to Parliament from the UPFA.
An UPFA group seeks recogonition as an Independent Group within the Opposition. "I don't think the Premier should get involved in 'domestic' issues of the UPFA, the Deputy Speaker told the Sunday Observer yesterday.
He said the President had nothing to do with parliamentary matters and added that he would only have to look into those concerning the UPFA.
"We can't interfere or influence the rights of MPs. Every MP has a right to make a choice of his political career," he said. After Tuesday's (February 9) incident in Parliament, members of the Joint Opposition agreed to negotiate and ask the Premier to sort out this issue. As far as I am concerned, Parliament is not the place to stage protests as it is not the Lipton Circus or Fort railway station to stage protests.
People engage in protests due to various grievances and injustices at Lipton Circus or opposite the Fort railway station. "In Parliament, we can't do things, we do in the street. Parliament is a place to debate, pass legislation and do the right thing. Parliament sustains democracy. Democracy is all about the parliamentary system," he said.