Vikum Bandara:
Echoing the colours of earth, sky and trees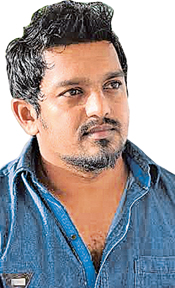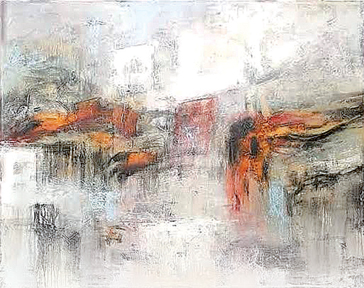 Colours are inspiring. And used on a canvas with fluid brush strokes they become a language for Vikum Bandara. In vivid shades muted with whites and greys, he uses colours to express his views on topical issues, telling a story in his own inimitable style that is all about colour, composition and technique.
Supporting his thinking that modern art prevails over the field of contemporary art, as it has no conventional barriers that allow artists to be free to express themselves, he says, "I am fond of this style and admire it because it enables me to express complex social issues freely on canvas." Abstract art permits Bandara to explore modern, complex issues.
He says, "I use abstract art to express my complex inner feelings. Through abstract art forms I express complex political, economic and social issues freely on the canvas. I don't like to limit myself to conventional artistic barriers. So I always reject conventional figures and landscapes and select abstract forms to express my complex ideas freely on canvas."
Bandara who completed his Advanced Level at Ananda Maithree National School, Balangoda and is currently working as an art teacher in Colombo, admits his techniques are inspired by the simple yet powerful works of Mark Rothko, Jean Michel Basquiat and Georges Braque. He was introduced to their styles during his days at the University Visual and Performing Arts where he studied for his degree in painting.
Interested in classical music and drama, Bandara says he uses acrylics and oils to create his paintings, but also experiments with other materials for texturing in order to bring out the meaning in his paintings. He works again and again on the canvas to achieve his ultimate goal in painting and says, "Sometimes when I work freely with colours, unexpected results emerge on the canvas. I let them remain and I add to it to enhance and enrich the painting. After completing the paintings, I feel the colours of the earth, sky and trees echoing in the painting. So it has a natural look in an abstract form."
(Pictures provided by Vikum Bandara)