Inspiring Lankan youth for 20 years
Association internationale des étudiantsen sciences économiques et commerciales, simply known as AIESEC, which will be marking 20 years in Sri Lanka next months, invites the alumni, the current leadership bodies in Local Committees, expansions and partners to celebrate the occasion at an event organised at the Water's Edge in Battaramulla, under the patronage of Prime Minister Ranil Wickremenayake.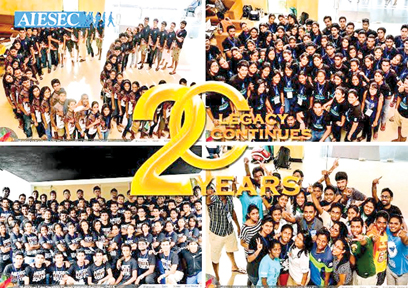 AIESEC, which aims to develop leadership potential of youth through experiential learning, volunteer experiences and professional internships, is the world's largest non-political, independent and not-for-profit organisation run by students. AIESEC includes over 100,000 members in 126 countries and territories enabling youth to participate in international internships by filtering the exchange participants through various competency and expectation levels.
"We are glad to note that AIESEC will be marking 20 years of developing the potential of youth, making available international opportunities and inculcating professionalism through experiential learning," said Samith Yasas Siriwardana, President of AIESEC.
AISEC in Sri Lanka was initially established in 1995. Today, AIESEC functions in University of Moratuwa, University of Kelaniya, University of Colombo, University of Sri Jayewardenepura, University of Peradeniya, University of Ruhuna and other higher education institutions: Sri Lanka Institute of Information Technology (SLIIT).
Since its inception, AIESEC in Sri Lanka has inspired thousands of young people to pursue pro-social causes through volunteering experiences and community service projects. By connecting skills with expertise, the AIESEC internship programs have helped the youth to perceive careers in challenging working environments, assisting the companies to grow and reach out to new markets. Thus, AIESEC in Sri Lanka, over the 20 years has developed global leaders through experiential learning, volunteer experiences and professional internships enabling both employers and organisations to connect with a network of talent.