A rocket of his own
German Tech student Thivanka Dissanayake awaits the launch of his new rocket, Sky Touch 01: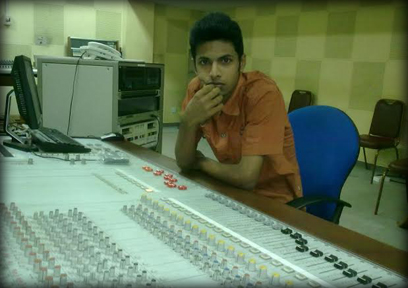 As a kid, he was always fascinated by flying objects. And as he grew older, he wanted to make the flying objects himself. Today, a final year student at Ceylon German Technical Training Institute, Thivanka Neranjan Dissanayake, who is planning to launch the fifth large scale rocket he has built, has managed to transform fascination into reality and is living his dreams. For, he has already made three prior successful launches, and as with all things experimental, also experienced one major flop.

Schooled at Royal College Wayamba, Kurunegala, Thivanka admits to building flying objects during his school days, even though he couldn't get any of those productions to take off. Shelving the fascination for awhile, he took it up again and went one step further, this time building rockets, when he joined the Ceylon German Technical Training Institute, and saw the technology available on various fronts.
His academic field of study, Power Electronic Engineering, doesn't educate him on the subject of rockets or the technicalities of building one, but it had given him enough incentives and background knowledge to successfully launch three rockets since 2014. However, as with any other successful experiment, Thivanka explains he faced multiple failures, which includes over 100 small scale rockets he built in 2013.
For the upcoming launch of his newest rocket, the 15ft long, 100 kg Sky Touch 01, Thivanka has already started making arrangements to get the required permission. "There aren't any laws in Sri Lanka that dictates the rules and regulations when launching a rocket, therefore, I need to get special permission, especially because this rocket is larger than the others I've tested before," he says.
Following his ambition, not giving up at the face of obstacles such as lack of expertise, equipment and facilities, Thivanka says the only driving force behind his success is his passion. He also says there's more pressure on him to succeed with his upcoming launch, which may, or may not, be a success, as it is an experiment, like the many others he attempted in the past.
To keep up with Thivanka's experiments, follow
his blog http://hathoraerospace.blogspot.com/