Roshani's homecoming
A Sri Lankan baby given away for adoption to an Australian couple, grows up to be an X Factor star and meets her birth mother in an emotional reunion 28 YEARS later
Speed read
Roshani Priddis was adopted in 1987 when she was six-weeks-old
Her Sri Lankan mother violet gave her up due to extreme poverty
Roshani lived a comfortable life in Tamworth, New South Wales
But with the support of her Australian parents, decided to find Violet
The emotional reunion followed the death of Roshani's Australian mother
At just six-weeks-old, Roshani Priddis was adopted by Australian couple Bruce and Narelle Priddis after her Sri Lankan mother and father were unable to care for her due to extreme poverty.
The now 28-year-old lived a loving, comfortable childhood in Tamworth, New South Wales, where she chased her dreams of becoming a singer.
But despite this, the former X Factor star felt as though something was missing and often looked at photos of her mother taken on the day she was adopted.
Appearing on 60 Minutes, last month, Roshani revealed her dreams of meeting her birth mother as she travelled to her home country to meet her mother, Violet, for the first time in 28 years. 'My life could have been so incredibly different and not really a life at all,' Roshani said, adding "She's a big part of me but I don't know who she is...it's weird loving someone so much that you don't know."
Roshani's Australian mother passed away in 2010 after a three-year battle with cancer...and her dying wish was for her daughter to finally meet with Violet.
"Her interest in this doesn't stop just because she's crossed over... she's very much behind this," the passionate artiste, who hired a private investigator to assist with the search, said.
After years of searching, Roshani finally received the news that Violet had been found and not only was she alive and well, but she couldn't wait to meet.
Once in Colombo, with the 60 Minutes team and her supportive father, brother and boyfriend by her side, Roshani said she felt "at home in a way."
After 28 years, three months, five days and "serious butterflies", Roshani was soon face to face with the woman who brought her into the world.
"Time stood still and it's just so emotional," a teary-eyed Roshani said, "it was instant familiarity I didn't know what to expect."
Violet revealed the pain involved in letting go of Roshani for the sake of her wellbeing, and in a final twist, revealed her daughter had brothers and sisters as well.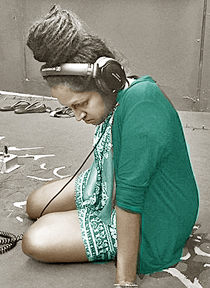 "I feel a great happiness, "Violet said, "Now that I've met her, my fears about what might have happened to her have disappeared."
The young star spent time with her family, getting to know them and going through old photos with them to share her childhood.
"It feels so good,' Roshani said, "I didn't know how good it was going to feel."
And when asked what Mrs. Narelle Priddis would be thinking, Roshani said she would be happy.
"She would be beyond happy," she added.
A 'proud and humbled' Roshani has since taken to Facebook to thank her 5,700 fans for their support and offer advice to those on journeys of their own. "Good luck on your journeys. Each and every one of us had a unique story," she wrote.
"My biggest advice is, have an open heart with no expectations. Adoption is the truest and most selfless manifestation of love itself, no matter what the outcome of your journey to your motherland.....xxxx."
-Daily Mail Australia