Movie Review
Expounding universal love
What is significant in 'Cindrella-part 1' by veteran filmmaker Enokaa Sathyangani Keerthinanda is her attempt to explore the universal romance in all of us. It is a romance that over the ages filmmakers, artists such as Pablo Picasso have skillfully expounded through their chosen media. Employing her proven and potent cinematic diction, Enokaa has chartered a course that has been well-explored by gifted filmmakers in world cinema such as James Cameron in 'Titanic', yet with a marked indigenous appeal.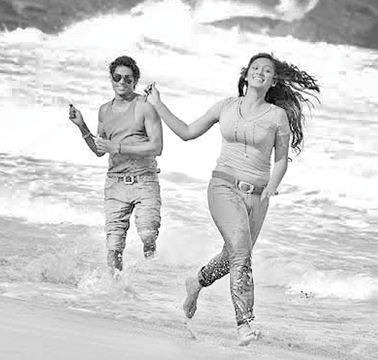 Although one may see the form and the content of the movie is similar to any romantic film, it is obvious that the filmmaker has been able to locate it within the contemporary socio-cultural milieu, capturing the essential slow-moving life-pluses that are unique to Sri Lanka.
The movie is woven around a series of closely-knit incidents that take place, primarily, in a luxury tourist hotel, with the lead roles played by Akalanka Ganegama (as Chandula Meegaswatte) and Upeksha Swarnamali (as Isanka). Among other visual treats, the movie contains underwater scenes, which in a symbolic way, represent both the intense romance between the two strangers and their mind-sets.
Chandula Meegaswatte, the 26-year-old architect student and his two best friends decide to visit Hambantota, with the intention of visiting Mulgirigala rock temple while awaiting their final examination results. As they check into a beautiful 5 Star hotel located beside the beach, they catch a glimpse of an attractive young woman. They cross paths once again two days into their stay.
Although the beautiful young woman ignores their amorous glances at first, an unexpected incident gives Chandula an opportunity to talk to the girl who introduces herself as Isanka.
As friendship blossoms between the two, Isanka reveals she lives in Switzerland and she is on a short visit to Sri Lanka. Chandula, who falls for the young woman, excuses himself from the planned trip to Mulgirigala with his friends, to spend more time with Isanka, whom he finds mysterious and alluring and quite different from most women.
Chandula notices that Isanka takes great effort to conceal her personal details but he does not pursue the matter, fearing it would crack the budding romance. However, her continued reticence to share any information about herself makes him wonder whether she is having a holiday fling.
Unable to deal with the secrecy, Chandula confronts Isanka about their relationship. Isanka is unable to answer his questions due to reasons she cannot confide in him.
'Cindrella' is a movie that revolves around the beauty of love, endless suspense and tense situations that traps a 26-year old youngster in an unfamiliar world turning his carefree life upside down.
Befitting end
Both lead roles are exemplary played, exploiting minute features of the characters. For instance, Akalanka portrays a young man who seems to have been mother's favourite but has, eventually, grown-up be a rather mellowed character as an adult and Upeksha Swarnamali portrays a somewhat matured young woman who lived her life as an expatriate.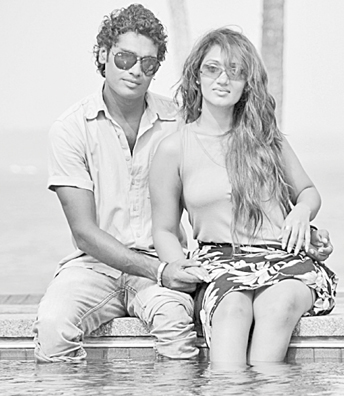 Like in many other major Western commercial movies, 'Cindrella-part 1' has a simple yet absorbing plot that among other things, engage the audience throughout the long movie, which ends leaving many unsolved issues.
Apart from a matured cinematic diction and life-like rhythm, 'Cindrella-part 1' would, certainly, redefine the aesthetics of Sri Lankan commercial movies. Enokaa has, rightly, identified the need of the hour to device a aesthetically appealing cinematic diction, which is at one level indigenous and at another espouses international commercial aesthetics that are amply manifested in highly commercially successful Hollywood productions such as 'Titanic', 'Jurassic Park' and 'Avatar'.
Although 'Cindrella-part 1' is a low budget movie, the filmmaker has been able to retain the glamour and higher picture and sound quality throughout. It is different to the conventional Sri Lankan commercial movie that is often confined to Masala formulae. 'Cindrella-part 1' would also be a Sri Lankan commercial movie that can be tagged for all audiences and thereby, shares some of the cardinal features of successful commercial movies that addresses different audiences at the same time.
The cast includes Akalanka Ganegama, Upeksha Swarnamali, Pubudu Chaturanga, Indrachapa Liyanage and Jayani Senanayake. The movie is directed and produced by Enokaa Sathyangani Keerthinanda and the crew includes Samantha Wickremaratne (Producer Executive) and Ajith Ramanayake (Editor).