Movies
American movie classics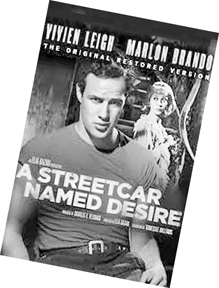 The International Centre for Ethnic Studies will present American Movie Classics, a festival of award winning films from February 15 to 19, at 5:00 p.m. daily at the ICES Auditorium, 2, Kynsey Terrace, Colombo 8
A Streetcar Named Desire (1951) - February 15
Starring Marlon Brando, Vivien Leigh, Kim Hunter
In the classic play by Tennesse Williams, brought to the screen by Elia Kazan, Balanche DuBois (Vivien Leigh) comes to visit her pregnant sister, Stella (Kim Hunter), in a seedy section of New Orleans. Stella's boorish husband, Stanley Kowalski (Marlon Brando) not only regards Blancho's aristocratic affections as a royal pain, but also thinks she's holding out on inheritance money that rightfully belongs to Stella. The film holds the distinction of garnering Academy Award wins for actors in three out of four acting categories. Oscars were won by Vivien Leigh, Best Actress, Karl Maden, Best Supporting Actor, and Kim Hunter, Best Supporting Actress category. Marlon Brando was nominated for his performance as Stanley Kowalski but, although lauded for powerful portrayal did not win the Oscar for Best Actor. The film has been labelled by the American film Institute as one of greatest American movies of all time.
---
Love is a Many Splendored Thing (1955) - February 16
Starring William Holden, Jennifer Jones
When Eurasian doctor and widow Han Suyin (Jennifer Jones) meets Mark Elliot, an American correspondent, William Holden, stationed in Hong Kong, she is captivated by his tenderness and insight. He finds her beauty and grace equally irresistible and they began an intensely passionate affair. Despite obstacles, such as interracial prejudice and Han's attempts to reconcile her past with her new feelings, they come to know a rare love and happiness. But Elliot is soon transferred to Korea where war has broken out. Based on a true story and filmed on location in Hong Kong, this beautiful, absorbing film is timeless classic. Jennifer Jones portrays one of cinema's most memorable characters in this film. Nominated for eight Academy Awards including Best Picture
---
In the Heat of the Night (1967) - February 17
Starring Sidney Poitier, Rod Steiger, Lee Grant
While travelling in Deep South, Virgil Tibbs (Sydney Poitier), a black Philadelphia homicide detective becomes unwittingly embroiled in the murder investigation of a prominent businessman when he is first accused of the crime – and then asked to solve it! Finding the killer proves to be difficult, however, especially when his efforts are constantly thwarted by the bigoted town sheriff (Rod Steiger). But neither man can solve this alone, putting aside their differences and prejudices, they join forces in a desperate race against time to discover the shocking truth. This provocative mystery thriller won five 1967 Oscars, including Best Picture.
---
North By Northwest (1959) - February 18
Starring Cary Grant, Eva Marie Saint, James Mason
Alfred Hitchcock's most entertaining and delightful suspense film North by Northwest finds New York City ad executive Roger D. Thornhill (Cary Grant) pursued by ruthless spy Phillip Vandamm (James Mason) after is mistaken for a government agent. Hunted relentlessly by Vandamm's Associates the harried Thornhill ends up on a cross-country Journey, meeting the beautiful Eve Kendall (Eva Marie Saint) along the way. Soon Vandamms henchman of close in on Thornhill resulting in number of iconic action sequences. This American western is a remake of Akira Kurusova's 1954 Japanese language film 'Seven Samurai'.
---
The Magnificent Seven (1960) - February 19
Starring Yul Brynner, Eli Wallach, Steve McQueen, Charles Bronson
Yul Brynner, Steve McQueen, Horst Buchholz, Charles Bronson, Robert Vaughn James Coburn, and Brad Dexter portray the title characters, A group of seven gunfighters hired to protect a small agricultural village in Mexico from a group of marauding bandits and their leader (Wallach). The film's musical score was composed by Elmer Bernstein. In 2013, the film was selected for preservation in the United States National Film Registry by the Library of Congress as being "culturally, historically, or aesthetically significant".
---
At The American Center
February 20 – 3.00 p.m.
12 Year A Slave (2013)
Stars Chiwetel Ejifor as Solomon Northup, a free black man in 1840's America. He makes his living as a fiddle player, and his wife is a teacher. He is shanghaied by a pair of nefarious white men and soon finds himself on a ship headed to New Orleans where he is informed he will be called Platt and is sold into slavery by an unscrupulous businessman (Paul Giamatti). As he toils away for the kindhearted but conflicted plantation owner Mr. Ford (Benedict Cumberbatch), who recognizes that platt is both education and an artist, he butts head with Ford's underlings, especially the casually cruel Tibeats (Paul Dano).
---
February 27 – 3.30 p.m.
Madagascar (2005)
Four zoo animals are shipped back to their homeland by an animal rights group that feels they belong in the wild. When the ship capsizes, the animals find themselves stranded in Madagascar. Having had humans care for them their entire life, they know nothing about survival and must work together with the locals to help them fit in.
Seating is limited and is first-come, first-served. Contact the American Center at [email protected] or at (11) 249-8146 for details.