Book launch
Parallel Lives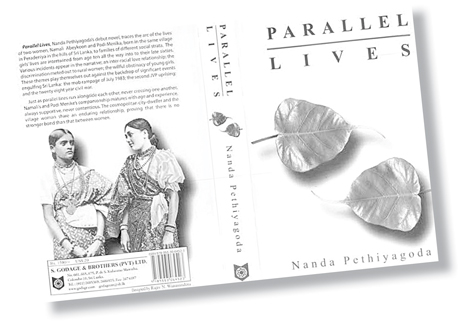 Nanda Pethiyagda Wanasundera debut novel, 'Parallel Lives' will be launched at the Royal Colombo Golf Club's Café on the 8th today, February 14, 2016, 6.00 p.m.
'Parallel Lives', traces the arc of the lives of two women, Namali Abeykoon and Podi Menika, born in the same village in Peradeniya to families of different social strata. The girls' lives are intertwined from age ten all the way to their late sixties. Diverse incidents appear in the narrative: an inter-racial love affair; coping with the willful obstinacy of young girls; the discrimination meted out to rural women. These themes play themselves out against the backdrop of significant events engulfing Sri Lanka: mob rampage of July 1983; the second JVP uprising; and the twenty-eight year civil war.
A second strand of theme and plot centres on a common belief of Buddhists: rebirth, and if at death there occurs a reluctance to leave this life, the existence of the departing life force as a 'being' not reborn.
Just as parallel lines run alongside, never crossing one another, Namali and Podi's companionship matures with age and experience, always supportive, never contentious. The cosmopolitan city-dweller and the village woman share an enduring relationship, proving there is no stronger bond than that between women.