Parliament's perception of women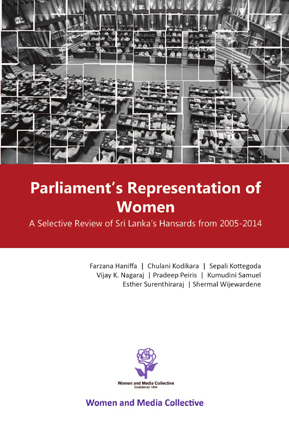 'Parliament's Representation of Women: A Selective Review of Sri Lanka's Hansards from 2005-2014' was launched by Women and Media Collective at the Taj Samudra Hotel, Colombo on January 30. Providing a 'thick description' of the references made to women in Parliament, the study adopts a qualitative approach to unpack and understand the ideological underpinnings of discourses surrounding the understanding of and engagement with the woman-citizen. Through its findings, the Review also calls for a transformation of Parliamentary talk on women.
The period selected for analysis - 2005 to 2014 - could be characterised in general as having a stable and well-established government headed by President Mahinda Rajapaksa.
The decade was also a time during which the government introduced and implemented its political and economic policies, ended the three-decade war, and introduced development plans for post-war Sri Lanka.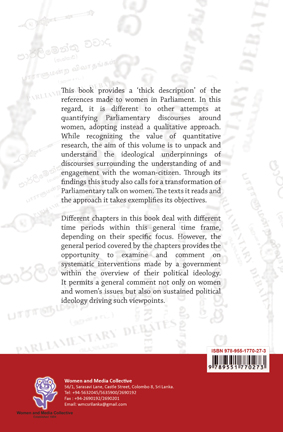 Different chapters in the study deal with different time periods within this general time frame, depending on their specific focus. However, the general period covered by the chapters provides the opportunity to examine and comment on systematic interventions made by a government within the overview of their political ideology.
Women and Media Collective's (WMC) Sepali Kotegoda, in the Foreword, states the study is an outcome of WMC's engagement in advocacy, activism, and participation in formal processes to address how women's interests are represented by the country's legislature.
"The representation of women in Sri Lanka's Parliament has been historically low; for over five decades it has fallen below seven per cent. A number of other women's organisations, researchers, and activists have been involved in advocating this issue, often sharing strategies and coming together at different fora to highlight, demand, and, where necessary, submit, carefully worked out proposals to political parties and to respective governments," she writes, adding that in the course of discussing and reviewing their own approaches, the WMC recognised that as much as they needed to persist with this external lobbying, they also needed to attempt to understand how these e?orts in the public sphere are re?ected at the level of discourse within Parliament.
"The result was the coming together of eight researchers to focus on two key areas of parliamentary discourse: (a) how do members of Parliament speak on issues related to women (b) what issues do women parliamentarians speak on during parliamentary debates," she writes, explaining that 'Parliament's Representation of Women' is based on readings of selected Hansard reports over the period 2005 - 2014, with the objective getting a measure of Parliamentarians' understandings of and commitment to addressing gender in/equality in the country, and to explore the role of women's organisations, rights activists, and researchers in this arena.