Renew your ambitions during the New Year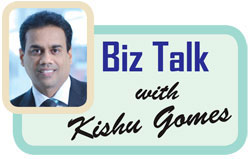 Although the current operating environment is so complex locally and globally, you are in a holiday mood already and reading serious stuff is the least focus, so let me be very brief this week.
A significant feature of the New Year is coming together and sharing. The moment you think of giving or receiving what comes to mind is material gifts you can touch and feel. While it's a nice thing, giving intangibles make more sense and helps people beyond instant happiness you get when you receive or give a material gift. Life doesn't end with a day's celebrations. Life is short. We won't get to celebrate too many traditional New Years such as the one this week.
How can we make the holiday season more fruitful? How meaningfully can we spend this holiday season to make our lives better and help others to achieve the same in the long term?
Find the time to spend with your family reflecting on 'what went well' and 'what didn't go well' - prepare a list and ask the question why and figure out what changes are needed to make higher percentage of activities work as envisaged.
New ways
Such an audit will help discover new ways of doing the same old things better for greater results and also figure out new focus areas for the family. It can range from your career to children's education to making or giving up relationships.
Happiness is in the hearts and minds of people - provide space for it. We need new perspectives, insights, ideas and energy and motivation and time and lots of other intangible things that can't be bought off the shelf. Happiness is in the hearts and minds of people not in materials.
It shouldn't be limited to traditional or statutory holidays. It can sometimes be found on the most ordinary of Mondays. Sometimes it blows in like a swallow in December. Sometimes when you want it most you can't have it. And sometimes you're up to your elbows.
The holidays do not have to remain rigidly the same, year after year. By opening yourself to change and letting go of traditions that have become too difficult or expensive, you afford yourself an opportunity to shape your holiday experience to reflect your current lifestyle and personality and learn something for the future.
Re-unite and renew friendships in the long term. It's what holidays are really about - the chance to properly renew friendships and spend long-overdue time finding out what's going on in everyone else's life. A gathering of friends is always a nice surprise to spring on someone.
The holiday season is typically a time when extended family members spend more time together. Leaving normal routines, hectic travel, and decreased personal space can all lead to conflict with the family members you ironically, want to enjoy.
Offer and receive a feedback - exchange ideas - mentor others or be mentored by someone who has something to offer you. There is no better opportunity than the holiday season to interact with people with an open mind.
Enjoy doing what you like to do but also try what I have advocated. You will find new ways of improving your life while helping the others with your new insights. This would offer sustainable happiness versus a gift offering instant happiness. A good balance between the two may be a good start.
Celebrate the New Year and enjoy the holidays safely and meaningfully.