Short Story:
No swing, No New Year without Seeya
Amila and his little sister Kusum were highly excited. April was finally here and it was a time of excitement for both. Not only was it time for school holidays but it also meant they got to savour different kinds of sweetmeats, get presents from their parents and more importantly spend all their time playing during the Sinhala and Hindu New Year. Every April the highlight of the month for them was the swing their grandfather tied on the mango tree in the garden. They spent many hours swinging away and taking turns on it.
On the last day of the school term Amila was impatient to get home.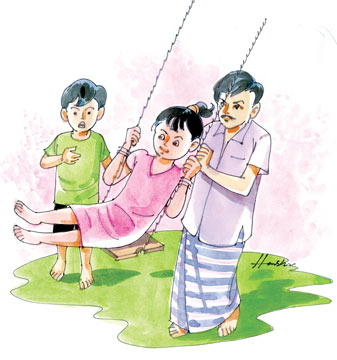 "Nangi let's get seeya to tie the swing for us when we get home", he told his younger sister as they both rushed home after school.
"Seeya!" They both shouted while running into the house. They walked into their grandfather's room but he was nowhere to be found. Neither was he in the garden where he liked to spend time growing different kinds of plants.
"This is so strange", said Amila who then went in search of his mother. "Amma where is Seeya he asked.
"Sorry, Amila, Seeya had to return to the village on a short trip for an urgent matter" she said feeling sad for both as she knew they looked forward to fixing the swing every avurudu season.
"Oh!" said Amila feeling very sad but what could he do. Suddenly a thought struck Amila. "Why don't I put up the swing myself" he thought to himself. Collecting the items needed to put it up he told Kusum, "Come Nangi, we are going to put up the swing on our own, Seeya will be proud of us".
For hours and hours Amila and Kusum tried to fix the swing but what they didn't realise was that they were too small and not so tall to reach the branches of the tall mango tree.
Their mother silently watched the children trying hard but there was nothing she could do either. She called her children in.
"Amila and Kusum let's put the swing up when Seeya comes", she said. The children were sad but they knew they could not do it on their own.
The next morning Amila woke up to hear giggles and the sound of laughter from the garden. It was Kusum and it sounded like she was playing. But who could it be with. Amila stepped into the garden to see Kusum going higher and higher on a swing being pushed by their father.
Unknown to them their mother had related the events of the day to their father who had then put up the swing for the children. "It is going to be a good Avurudu after all", thought Amila before going to join his sister and father in the garden.