Avurudu games
There are traditional games people engage in during the festive season. We hear the sound of the raban and joyous laughter, especially of children mingling with the melodious call of the koel during this time.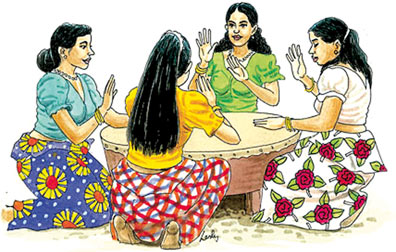 Like all the age-old rituals connected with the New Year these games are enjoyed by all. There are Avurudu Ulelas, where many people participate in traditional games.
These games are different from games played at other times. Pancha keliya, onchili pedeema, kalagedi sellama, olinda keliya and porapol geheema, mallawa pora, ali pora, gon pora, lanupora addima, rilapeti pedima and daadu gasima are some of the games. They bring fun and joy and teach us the value of team spirit.
Pancha Keliya
This is a popular game. Pancha is played with five small seashells, a coconut shell and a chart. Players are divided into two groups.
Onchili pedeema
This is famous among women, where a swing is tied on a strong branch of a tree in the garden. Sometimes there are two people seated on the swing while another person keeps swaying the swing back and forth while singing special verses known as onchili waram, also known as varang kavi.
Kanamutti bindeema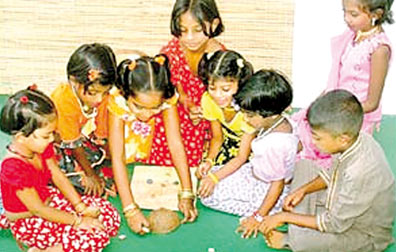 This festive game is mainly in Avurudu Ulelas. Here a row of pots are hung while the participants are blindfolded and select the pot which contains a specific item. The winner is the person who hits the correct pot.
Placing the eye on an elephant
It is an enjoyable experience where participants are blindfolded and have to spot the elephant's eye.
Olinda Keliya
The Olinda Keliya verse is sung at time,
Olinda thibenne koi koi dese,
Olinda thibenne bangali dese.....
Genath handanne koi koi dese,
Genath handanne Sinhala dese...
Two players participate in this game where nine holes are placed on either side of a horizontal board. The player who collects the most number of seeds is the winner.
Playing the rabana
Beating the rabana to the tune of Dontha babakkata denna deyakna, Pettagamak uda thutu dekak atha, children play the rabana to different raban pada.
Bun-eating competition
In the bun-eating competition a row of buns is strung on a line, to be eaten without using hands.
Climbing the greasy pole-Lissana gaha nageema
A very long timber pole made out of a puwak tree, about 10 metres high, is fixed into the ground. At the top of the pole money is placed or sometimes just a flag. However the pole has been rubbed with thick slimy grease along its whole length. The first person to climb to the top claims the money.However, repeated attempts are made with some of the grease being removed on each attempt until finally, when all the grease has been removed, the last person can climb to the top and claim the money.
There are many more festive games and many people from grown ups to children take part in these games.
- Internet