Easy recipes for the New Year
Make these delicious sweetmeats for the New Year.
Coconut Laddoo

Ingredients:
1 small tin sweetened condensed milk
325g scraped coconut
* Set aside 50g of coconut to be used later. Mix the remaining coconut and sweetened condensed milk in a saucepan. Cook on a low fire till the mixture leaves the sides of the pan (approximately five minutes). Mix in the vanilla essence.
* Cool the mixture and roll in to small balls with oiled hands.
* Roll the balls in the remaining coconut and serve.
---
Naran Kavum

Ingredients: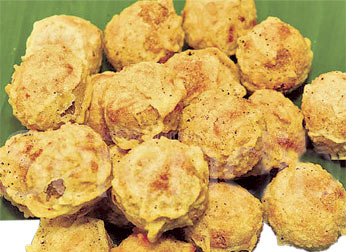 1 small sweetened
condensed milk tin
120 ml water
400 gr scraped coconut
2 tbsp ground spices
Pinch of salt
Batter
125 gr rice flour
350 ml coconut milk
Pinch of salt
A little saffron
Method:
Mix the sweetened condensed milk with water in a pan and stir for five minutes on a low fire.
Add the scraped coconut, salt and ground spices and keep stirring until very thick. Allow it to cool.
Mix the coconut milk and flour in a separate bowl into a smooth batter, add saffron and salt.
Roll the sweetened condensed milk mixture into small balls dip in the batter and deep fry.
---
Kesari

Ingredients: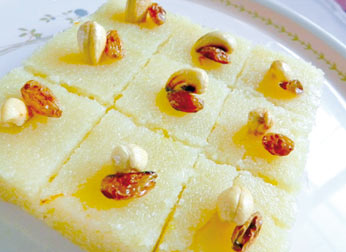 200gm sweetened condensed milk
1 cup semolina
3/4 ghee
2 cups water
1 tsp kesari powder (saffron)
8-10 cashewnuts
1 1/2 tbsp raisins
Method:
Heat ghee in a pan.
Fry cashewnuts and raisins till light brown.
Add semolina to the remaining ghee and fry till light brown. Add kesari powder (saffron) dissolved in two cups of water. Keep stirring.
Reduce heat. When all the water has been absorbed, add condensed milk.
Stir well till traces of ghee begin to show at the sides of the pan.
Spread on a greased plate, top with nuts and raisins, if desired.
Cut into diamond shaped pieces. Serve warm or cold.
---
Kokis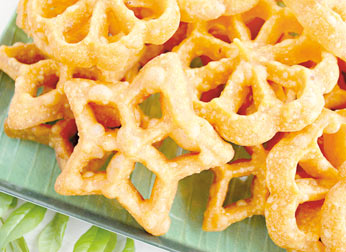 2 tbsp sweetened condensed milk mixed with one cup of water
230 gr flour
2 eggs beaten
Oil to fry
Mix the beaten eggs with the flour. Add the condensed milk mixture and mix well.
Heat the kokis mould in the heated oil and dip in the mixture.
Fry until golden brown and remove from the mould on to a oil paper to absorb the oil.