ADB to enhance capacity, size of capital market
'The Colombo Stock Exchange is owned and dominated by brokers whose businesses take precedence over the governance of their exchanges and overall market development (including critical market infrastructure).'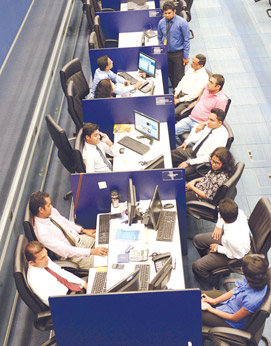 The Asian Development Bank (ADB) last week said it would fund a study to further develop Sri Lanka's capital market so that it could more effectively channel savings to finance investment.
"The specific objective of the proposed Capital Market Development Program (CMDP) is the enhanced capacity and size of the capital market that is grounded on a strong legal and regulatory framework," it said.
The CMDP is due to be approved by the ADB's Board of Directors in the second quarter of 2016 and implemented over six months, from April to September 2016.
It aims to improve the legal and regulatory structure and develop the bond market, financial instrument tax policies, an enabling environment for derivatives and the insurance sector and pension sector.
The ADB said in a statement it expects CMDP's impact to be a "well functioning financial system that supports basic capital and investment needs, as well as Sri Lanka's longer term economic objectives."
The bank said that despite the large financing needs of the economy, the capital markets in Sri Lanka have "not been particularly effective" in channelling savings to support investment and growth.
"The Colombo Stock Exchange is owned and dominated by brokers whose businesses take precedence over the governance of their exchanges and overall market development (including critical market infrastructure)," the ADB said.
While the annual increase in bank credit to the private sector amounted to 4.1% of Gross Domestic Product (25.4% of national savings), the capital raised by the private sector through equity and bond issues together was equivalent to only 0.7% of GDP in fiscal year 2014.
"The economy also remains over-reliant on bank financing (total bank assets are nearly 60% of the country's financial assets) that are unable to finance the infrastructure investments that the country needs because this would expose banks to credit risks such as maturity mismatch issues," the ADB said.
"The corporate bond market remains at a nascent stage, undermining long-term infrastructure financing requirements." The total corporate bond market is only 2% of GDP, which is significantly less than that of other middle income Asian countries.
Insurance companies and pension funds (particularly Employees Provident Fund and Employees Trust Fund) have a limited role in financing government securities which hampers formulation of a credible government yield curve and liquid bond market, the ADB said.